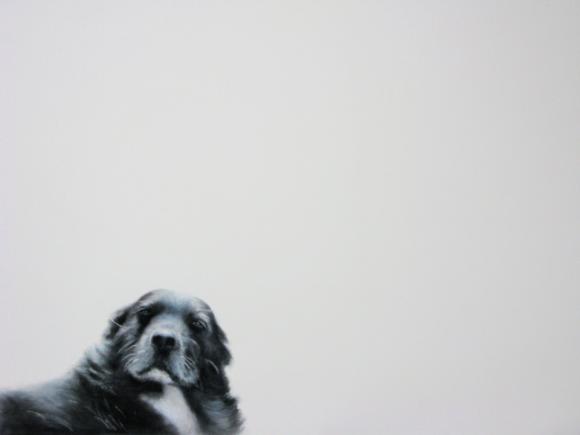 Das kann nur ein alter Rüde sein, den Peter Haslam Fox (*1978 in Lancashire/GB) hier gemalt hat. Alles andere erscheint mir schier "denkunmöglich". Ich gehe sogar noch weiter: Für mich sieht der Hund wie das Idealbild eines alten selbstzufriedenen und selbstgenügsamen Mannes aus. "Was schaust du so?", scheint er uns zu fragen.
The portrait work can take many forms but in each case I try to find a fresh approach to the subject and to represent them in a manner that captures their character in a simple and striking way. (Peter Haslam Fox hier)
Peter Haslam Fox hat den Hund in die linke untere Ecke gemalt und ihm außergewöhnlich viel Freiraum zugestanden. Doch kein Quadratzentimeter davon erscheint verschwendet, sondern bringt das unabhängige Wesen des Hundes noch besser - in a simple and striking way - zur Geltung.
Der Künstler hat in der Aquarellmalerei eine Technik gefunden, die für ihn - neben der Tuschemalerei - nicht nur zum bevorzugten Medium, sondern nahezu zu einer Obsession wurde. Beiden Techniken gemeinsam ist die Unkorrigierbarkeit eines einmal gezogenen Pinselstrichs. Es braucht technische Meisterschaft und künstlerische Kühnheit diese subtilen und ausdrucksstarken Arbeiten zu malen. Die Konzentration auf stilistische Klarheit und Technik verdankt er seiner Auseinandersetzung mit chinesischer Malerei und Kalligrafie.
Peter Haslam Fox, der von der konzeptuellen Ausrichtung seines Studiums an der Chelsea School of Art enttäuscht war, versucht traditionelle künstlerische Methoden für eine moderne Welt zu überarbeiten und den Fokus der Kunst auf einen Schritt vom Konzept hin zu Übung und Können zu lenken. Ihm ist die Wiederbelebung und Neuausrichtung der vernachlässigten Aquarellmalerei ein wichtiges Anliegen.
Bild © Peter Haslam Fox