Ein Tischtuch, bei dem die Kanten der ehemaligen Faltung noch erkennbar sind und das an Trompe-l'œil-Malerei erinnert, vier Totenschädel in unterschiedlichen Perspektiven und nicht zuletzt ein schwermütig dreinblickender Hund, der über seine Zukunft zu sinnieren scheint: Das sind die meisterlich gemalten Elemente eines Bildes, auf das ich ganz zufällig bei meiner Bildersuche gestoßen bin und das ich ihnen nicht vorenthalten will.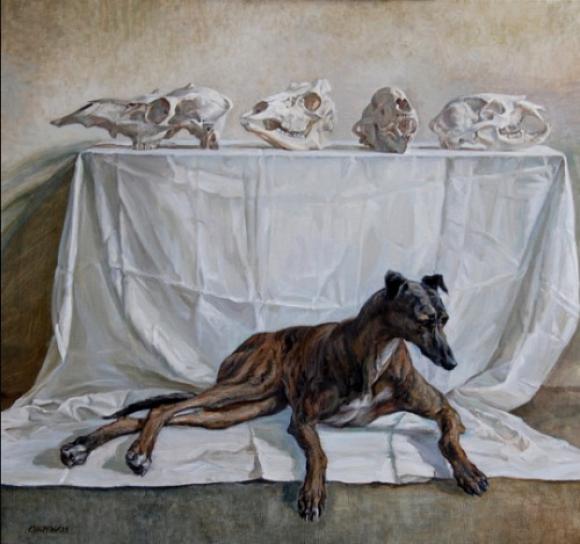 Die obere Hälfte dieses wundervollen Gemäldes zeigt uns ein typisches Stilllebenmotiv: vier tierische Totenköpfe - Vanitasmotive - als Sinnbild der Vergänglichkeit. Den unteren Teil nimmt ein liegender Windhund ein. "Cave canum" nennt die Künstlerin ihr Werk, doch ich vermute sie meint "Cave canem", die lateinische Warnung "Hüte dich vor dem Hund!", die erstmals auf einem Fußbodenmosaik in Pompeji auftaucht, auf dem ein angeketteter schwarzer Hund in Drohgebärde zu sehen ist. Doch auch unser anmutiger Windhund wird den Weg alles Irdischen gehen und einst die Reihe der Totenschädel ergänzen.
Die Künstlerin, Alicia Czechowski, ist in Detroit aufgewachsen und hat schon als Kind in der Sammlung des Detroit Institute of Arts Kopien von Kunstwerken, darunter ein Stillleben von Claesz, angefertigt. Auch später wollte sie mit dem Kopieren von Frans Hals, Rubens, Van Dyke u.a. etwas von deren Virtuosität und Expressivität im Umgang mit dem Medium Malerei aufnehmen:
Being at work with your brushes and colors in front of a living, breathing painting by one of the greats, like Hals or Velasquez, is the most potent learning experience. It's is the best way to learn to paint, almost like journeying back in time and actually watching them at work at their easels. (zit. n. hier)
Heute beschäftigt sich die Künstlerin vor allem mit der menschlichen Figur. Schade, es wäre zweifelsohne spannend, mehr Hundeporträts von ihr zu sehen.
Homepage der Künstlerin Alicia Czechowski