Bewegung ist das bestimmende Element in Kanevskys Malerei. Der Künstler, der aus Litauen stammt und in Philadelphia lebt und arbeitet, malt oft mehrere Monate an einem Bild und legt viele Schichten übereinander, wobei immer Teile der unteren Lagen sichtbar bleiben. Er malt nach Fotos und nach Modell, seine Modelle müssen allerdings nicht ruhig "Modellstehen", da dies seiner Auffassung nach nicht dem menschlichen Wesen entspricht.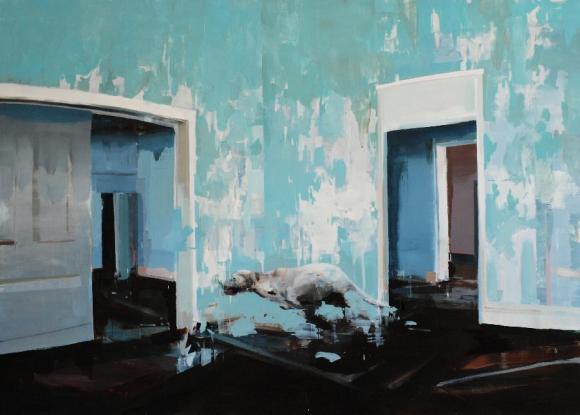 Alex Kanevsky, Blue Room with Running Dog, 2011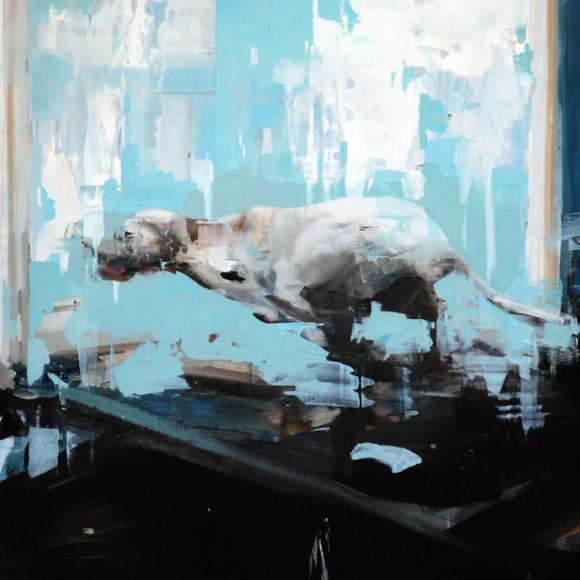 Für Kanevsky drücken Menschen ihr Wesen durch Bewegung aus. Folgendes Zitat lässt sich auch auf seine Tierdarstellungen anwenden:
"People, whom I paint, are never still. They want to move, they are built for motion. It is actually painful for models to be still longer than 20 minutes. I like them, I find them endlessly fascinating, how they are built, the way they grow and shrink over time, how they move, act, express their emotions, etc. So I want to paint them the way they are, and to me they are defined by their motion. A brick is defined by its shape and people are defined by their motion."
Das Zitat stammt aus einem Interview, gefunden bei Vivianite, einem Blog über Malerei und bildende Kunst, wo Sie mehr über Kanevskys Arbeitsprozess erfahren können.
alle Bilder © Alex Kanevsky