Ein sehr interessanter Künstler mit einem vielfältigen, unterschiedlichste Medien umfassenden Werk (Zeichnung, Malerei, Installation, Performance, Film, Video) ist Ahmet Ogut. Seine Zeichnungen "Mission Calls" haben sofort meine Aufmerksamkeit erregt und mein Herz bewegt.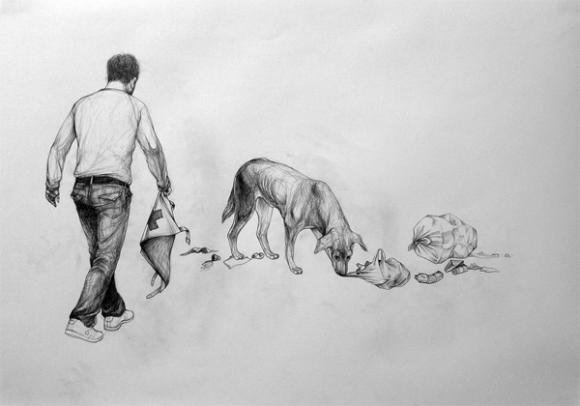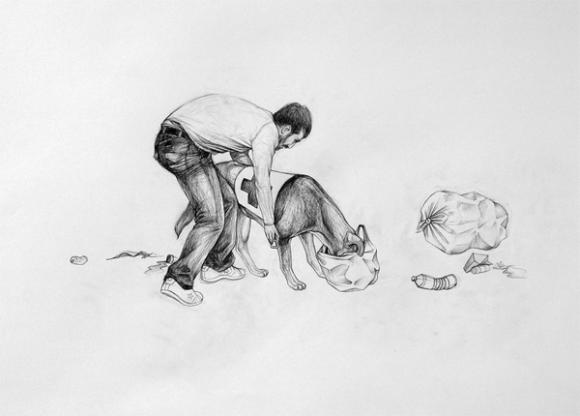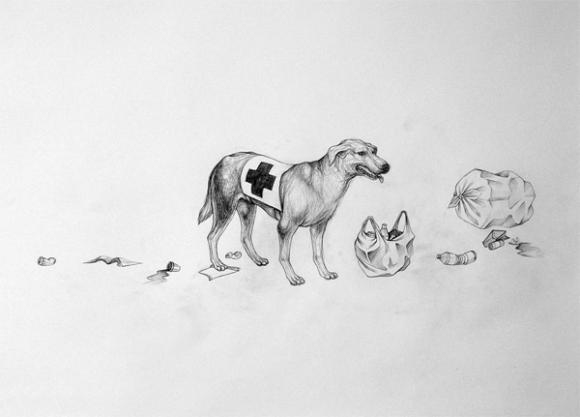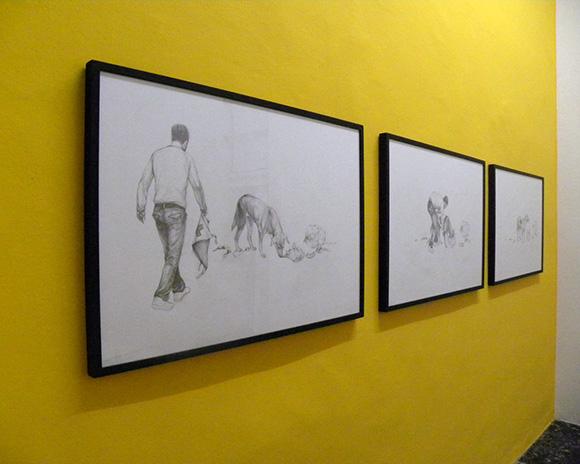 Mission Calls, 2008-2009, Triptychon, Ausstellungsansicht Peep-Hole Milan, Privatsammlung
Mission Calls is a work composed by three large drawings that appear as a short storyboard of a performative act that anyone could do. The sequence shows a common street dog transforming into a rescue-dog and it is the artist, with a seemingly absurd and surreal gesture, that grants the unsuspecting dog this role of power.
Die englische Beschreibung des Werks stammt von der Homepage des Künstlers. Jeder kann dem Hund mit Hilfe einer surrealen und absurden Geste (das Umbinden der Rot-Kreuz-Schürze) Macht verleihen. Diese Geste wird als performativer Akt beschrieben.
(Nun: "Performativer Akt" ist ein komplizierter Begriff aus der Sprachtheorie und bezeichnet einen besonderen Zusammenhang zwischen Sprechen und Handeln. Wer sich dafür interessiert, findet unter den Wikipedia-Einträgen zur Performität und zur Sprachakttheorie Näheres. Meint Ogut also, dass es in unserer Wahrnehmung liegt, ob wir ein Tier als wertlos oder wertvoll empfinden. Ist in seinem Kunstwerk "Mission Calls" die Verschiebung der Wahrnehmung der performative Akt? Und ist das ein Ansatz dafür, wie mögliche Tierrechtskunst ausschauen könnte?)
Könnte es doch nur so einfach sein und aus allen Streunerhunden Rettungshunde werden. Niemand würde sie mehr töten wollen! Das war mein erster, simpler Gedanke, nachdem ich die drei Zeichnungen sah. Der Gedanke, die Hunde durch "Nobilitierung" mit einem "Rot-Kreuz-Mantel" zu retten, ist jedenfalls ein wunderschöner.
Oguts zweite Arbeit, in der ein Hund vorkommt, geht auf ein Rätsel zurück, das wohl jeder in irgendeiner Form kennt: Wie bringt man Ziege, Wolf, Krauthappel (oder so ähnlich) in einem Boot ans andere Flussufer? Englischer Text von seiner Homepage.
A bomb disposal technician, a suspicious bag, a soldier, two security dogs, a suicide bomber, his wife in wheelchair and his daughter have to cross a river. They have discovered a small boat. The small boat can carry only two people or one person and one dog or item at a time. The suspicious bag can not be left with anybody unless the bomb disposal technician is present. The suicide bomber can not be left with any of the dogs unless the soldier is present. The soldier can not be left with any of the suicide bomber's family members unless the suicide bomber is present. Only the soldier, suicide bomber, and bomb disposal technician know how to use the boat. How would they cross the river?
Nun, die Besatzung/Besetzung des Bootes wird bei Ogut ausgetauscht, die Idee bleibt die gleiche. Da das Werk in Leipzig ausgestellt war, können Sie an den Wänden auch Teile des deutschen Textes erkennen. Die einzelnen Figuren haben Rollen und können verschoben werden, manch Museumsbesucher macht das auch, um das Rätsel zu lösen.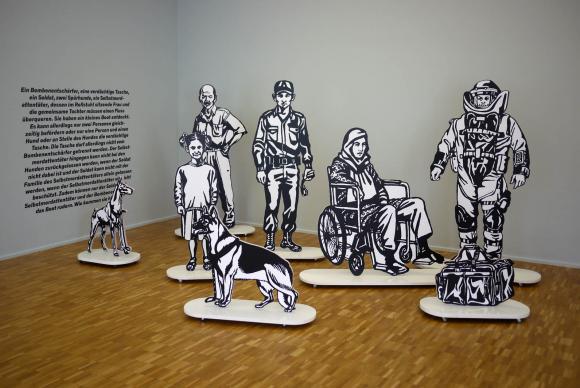 Puzzle, 2010, Interaktive Installation, Ausstellungsansicht gfzk - Galerie für Zeitgenössische Kunst Leipzig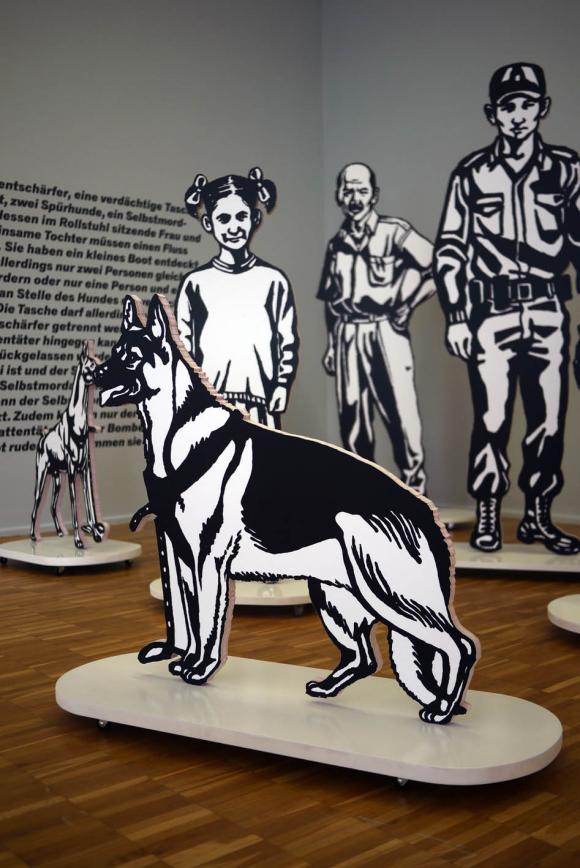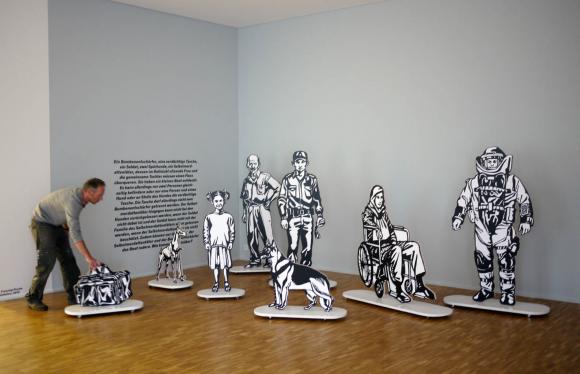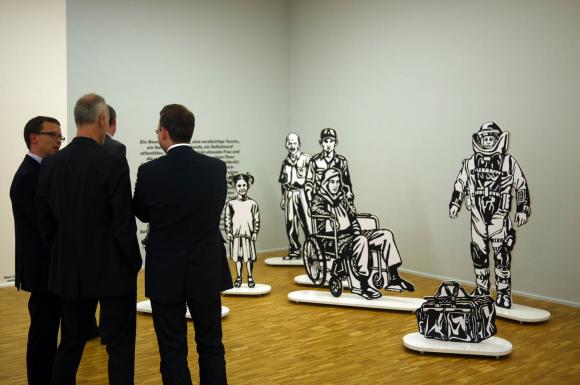 Ahmet Ogut wurde 1981 in Diyarbakir/Türkei geboren, hat in Ankara und Istanbul Kunst studiert und lebt und arbeitet in Amsterdam. Er stellt seit vielen Jahren international aus.
alle Bilder © Ahmet Ogut