Alina Sokolova ist eine Malerin und Mixed-Media-Künstlerin, die mit traditioneller Malerei, Video, Performance und Installation zu soziopolitischen Themen arbeitet. Ihre Arbeit setzt sich kritisch mit sozialen und kulturellen Normen auseinander.
Sie beschreibt ihre künstlerische Praxis als eine ausführliche Erforschung von Bewegung. Menschen stehten im Mittelpunkt ihrer Bilder: ihre Koexistenz, Synergie, Interaktion, ihre gemeinsame kollektive bewusste oder unbewusste Choreographie, ihre zufällige körperliche Nähe.
Humans stand at the center of any of my paintings. Their coexistence, synergy, interaction, their joint collective aware or unaware choreography, random bodily proximity. I'm interested in the different manifestations of people's shared, individual, temporary, or inherent movements as a display of current times and changing social phenomena. Because this movement analysis is a big focus of my interest and I'm more analytical in that approach at times, I embed choreographic elements in my works. (zit. n. bode-projects)
Die Künstlerin interessiert sich für die verschiedenen Erscheinungsformen der kollektiven und individuellen, ephemeren oder inhärenten Bewegungen der Menschen. Welche Auswirkungen haben soziale Phänomene oder geänderte kulturelle Normen auf diese Bewegung (z.B. neue Bewegungen bei Arbeitsabläufen; Bewegungen in der geänderten Mensch-Tier-Beziehung)?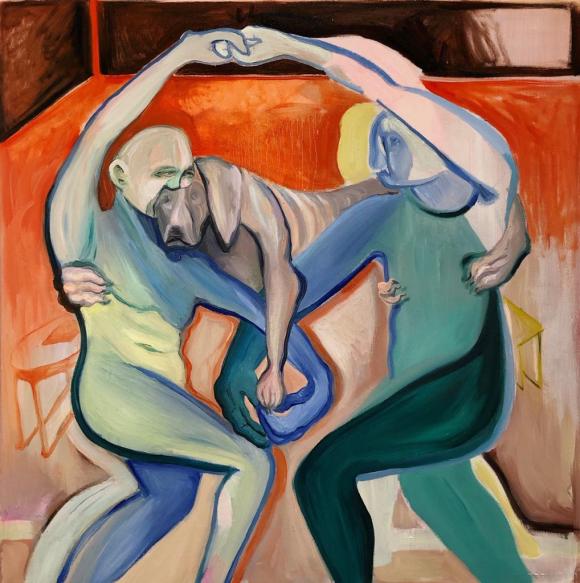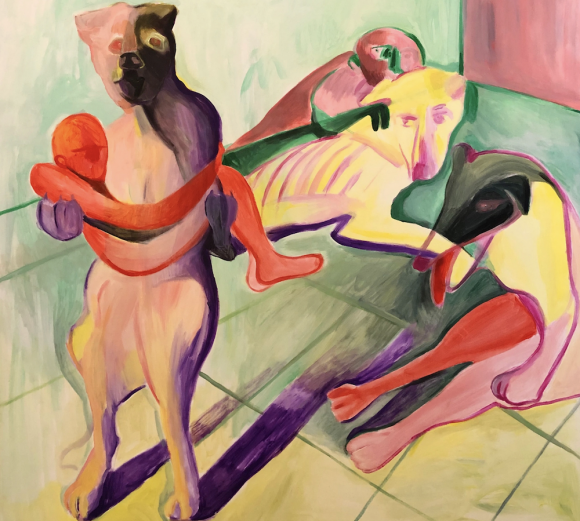 Durch ihre genaue Beobachtung wird sie zur Sammlerin und Archivarin der Bewegungen, die zum Allgemeingut geworden sind und ein Zeugnis ihrer Zeit und des sich ständig verändernden sozialen Klimas darstellen. Zusätzlich zur Bewegungsanalyse baut sie choreografische Elemente in ihre Arbeiten ein, ein Ergebnis ihres Interesses an Tanzpraktiken, das sich über mehrere Jahre hinweg allmählich entwickelt und entfaltet hat.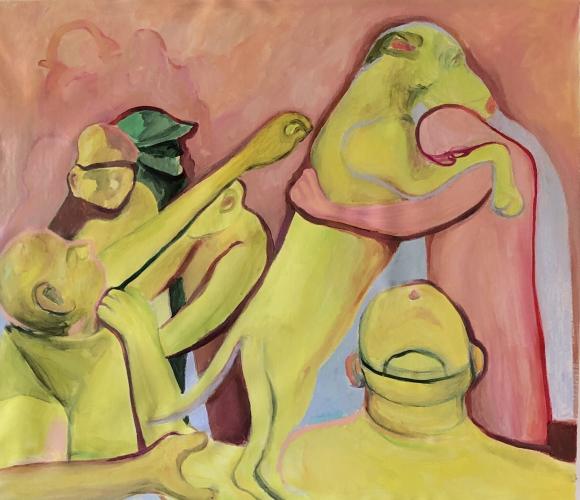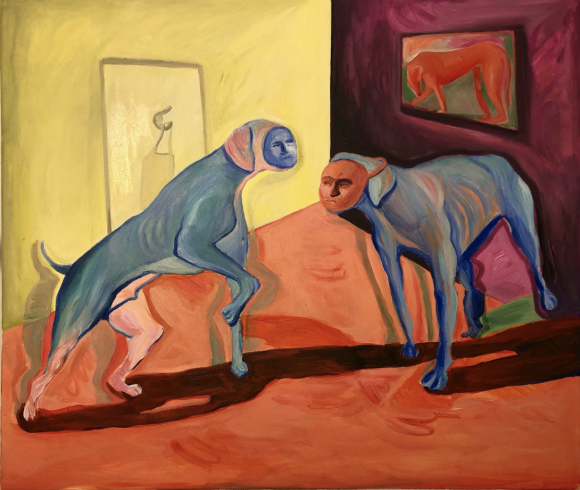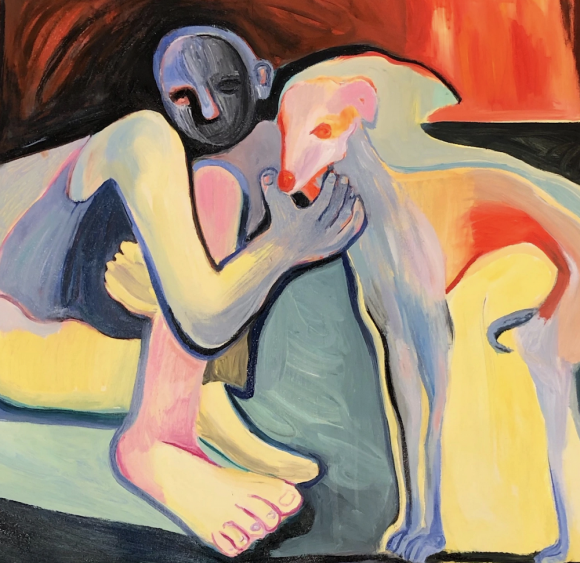 Beim Betrachten ihrer Bilder entdecken wir Figuren in Gruppen und sozialen Interaktionen, ineinander verschlungene und verzerrte Körper. Ihre Gelenke, Hände und Beine, oft bizarr vergrößert, passen sich einander an und fließen in einer choreografierten Weise ineinander. Die Körper befinden sich zumeist in leeren Innenräumen, die Farbigkeit ist grell, Schatten und Konturlinien werden stark betont.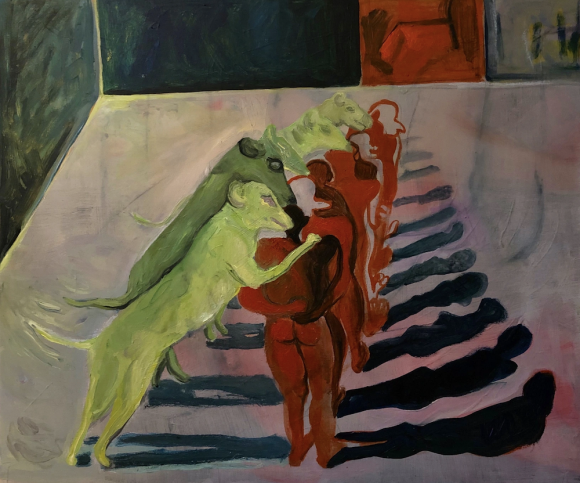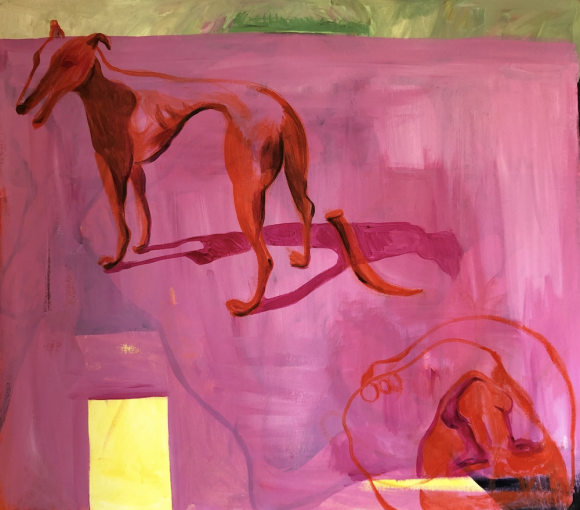 Alina Solokova (*1995 in Uzhgorod/Ukraine) hat ihre Ausbildung in unterschiedlichen Ländern absolviert. Der Weg durch die konventionelle akademische Kunststruktur in der Ukraine und die vielen Professoren in Bratislava, Wien und Hamburg mit ihren unterschiedlichen Denkweisen vermittelten ihr ein breites künstlerisches Spektrum. Im Jahr 2021 schloss sie ihr Studium an der Akademie der bildenden Künste in Wien ab, sie lebt und arbeitet in Wien.
Quellen: Galerie Rudol Leeb, BODE, Les Nouveaux Riches Magazine
alle Bilder © Alina Solokova