Gleichzeitig sind in Wien zwei Ausstellungen großer Magnum-Fotografen zu sehen: Robert Capa im Collegium Hungaricum und Henri Cartier-Bresson im Kunsthaus Wien. Magnum Photos, eine Foto- und Fotografenagentur, wurde am 27. April 1947 unter anderem von Robert Capa und Henri Cartier-Bresson in Paris gegründet. Auslöser zur Gründung einer Agentur war ihr Wunsch, die Rechte über die eigenen Bilder gegenüber den großen Magazinen und Agenturen besser sichern zu können.
Capa war vor allem ein Kriegsfotograf, dessen Ruhm auf den Aufnahmen aus dem spanischen Bürgerkrieg gründete. 2008 tauchten Tausende unveröffentlichte Bürgerkriegs-Negative in Mexiko auf, die fast 70 Jahre als verschollen galten. Auch Capa starb 1954 in Vietnam in dem Glauben, dass sie vernichtet seien.
Auch in Kriegszeiten begleitet der Hund den Menschen, weshalb sich der eine oder andere Hund auf Capas Fotos findet. Das erste zeigt seine Lebensgefährin Gerda Taro in Paris: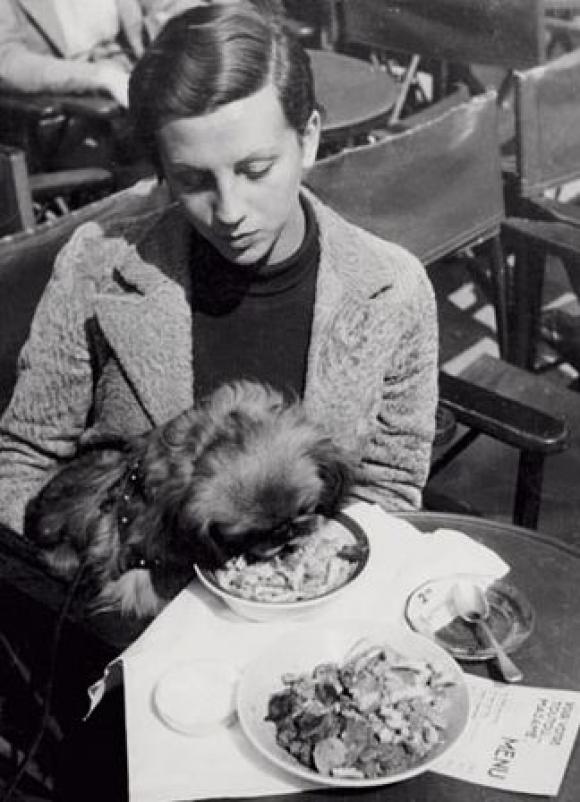 Robert Capa: Gerda Taro mit einem
Hund in Paris, etwa 1935-1936, © International Center of Photography/New York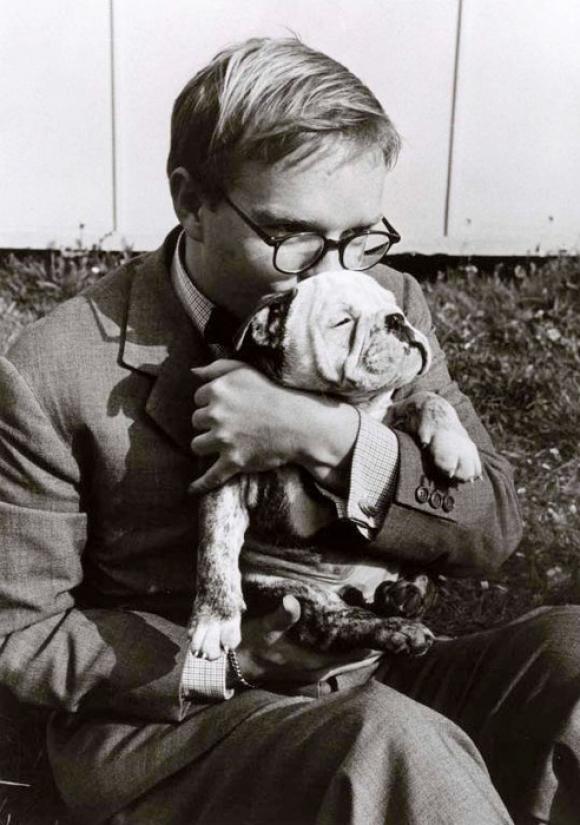 Robert Capa: Truman Capote hält einen Hund, Italien, 1953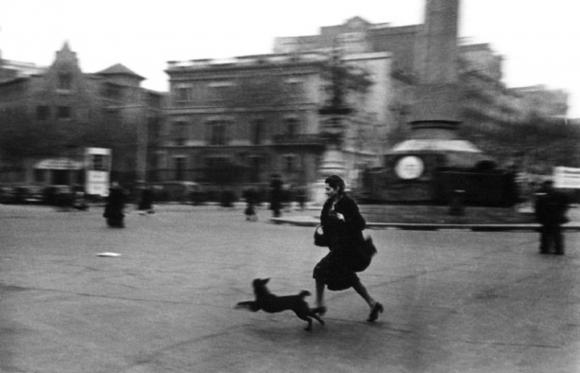 Robert Capa: Bombardiertes Barcelona, 1939, © International Center of Photography/New York
Eine Frau und ein Hund suchen Schutz vor einem Luftangriff.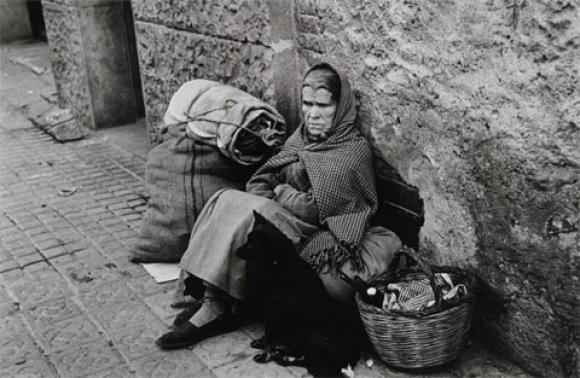 Robert Capa: Flüchtling, 15.1.1939. Eine Frau flüchtet mit ihrem Hund, nachdem ihr Sohn und Mann im Krieg getötet worden waren.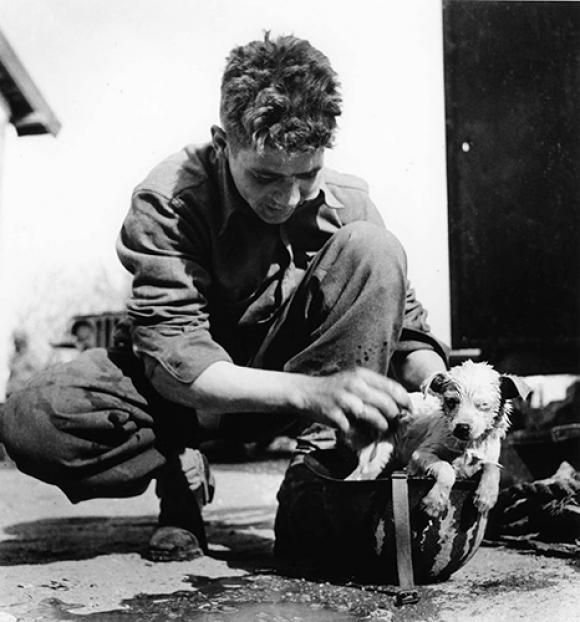 Robert Capa: Soldat mit Hund im Helm, Tunesien, März -April 1943
Henri Cartier-Bresson, der ursprünglich Malerei studiert hatte, wandte sich in den 1930er Jahren der Fotografie zu. Er reiste unter anderem durch Europa, mehrmals nach Amerika, nach Indien, Pakistan und in die Sowjetunion und verbrachte dort jeweils längere Zeit, sodass er sich auch nicht als Reisefotograf verstand, sondern als Beobachter unterschiedlichster Menschen und Kulturen. Obwohl für ihn das Auslösen im 'entscheidenden Augenblick' wichtig war, kam dem Bildaufbau eine wesentliche Bedeutung zu.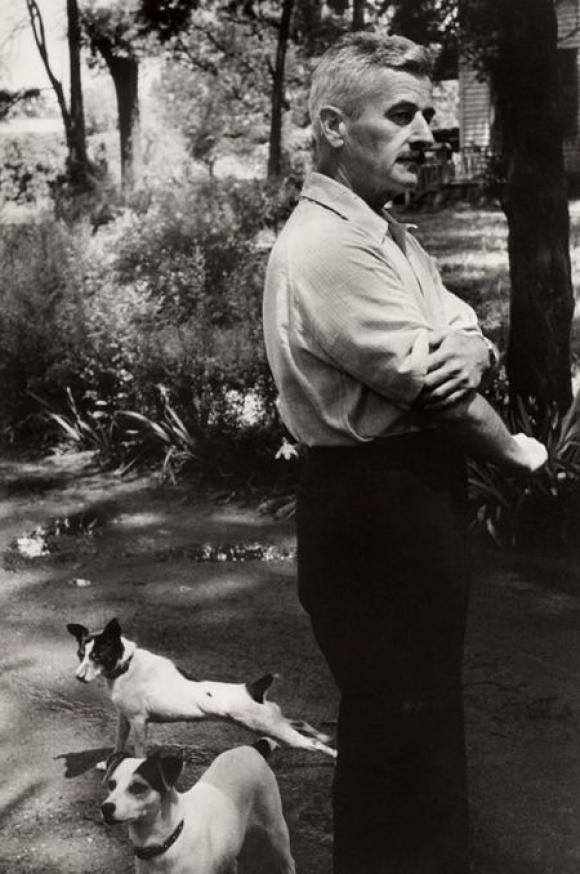 Henri Cartier-Bresson: William Faulkner, 1947, © Magnum Photos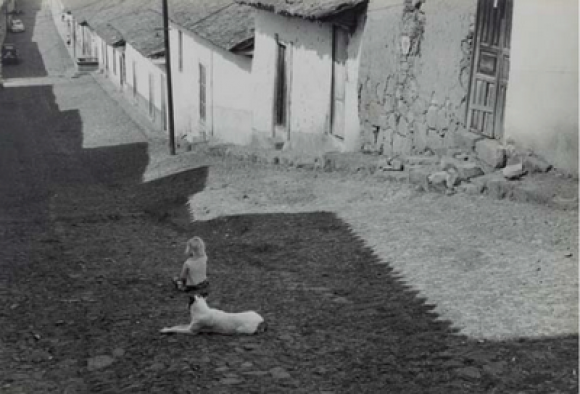 Henri Cartier-Bresson: Mexiko, 1963, © Magnum Photos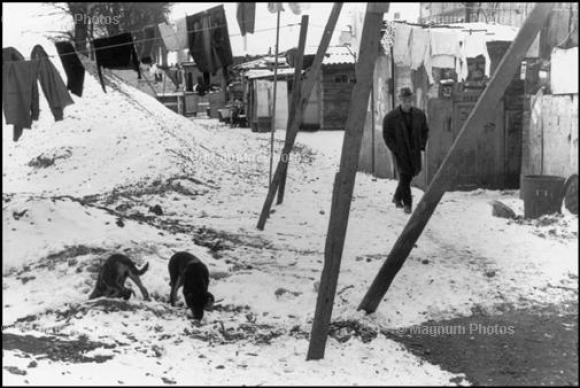 Henri Cartier-Bresson: Auberviliers, 1971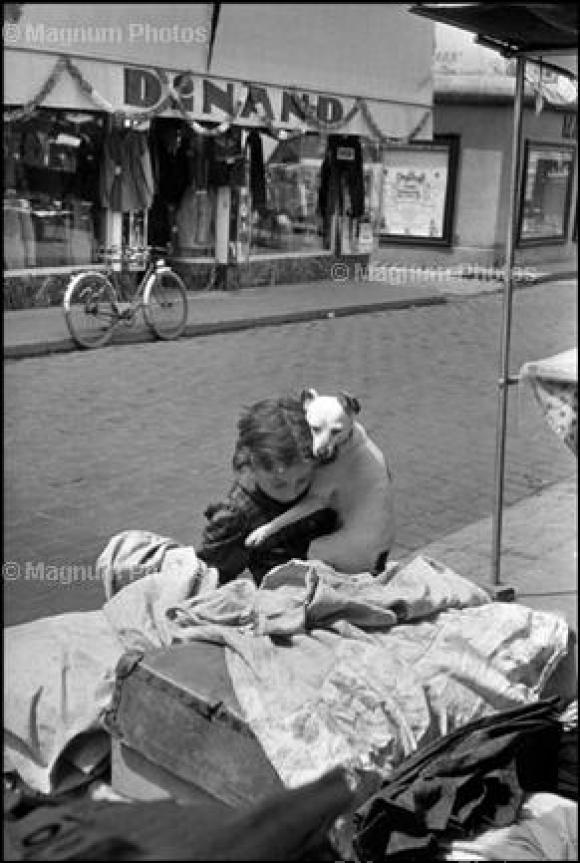 Henri Cartier-Bresson, Frankreich, 1953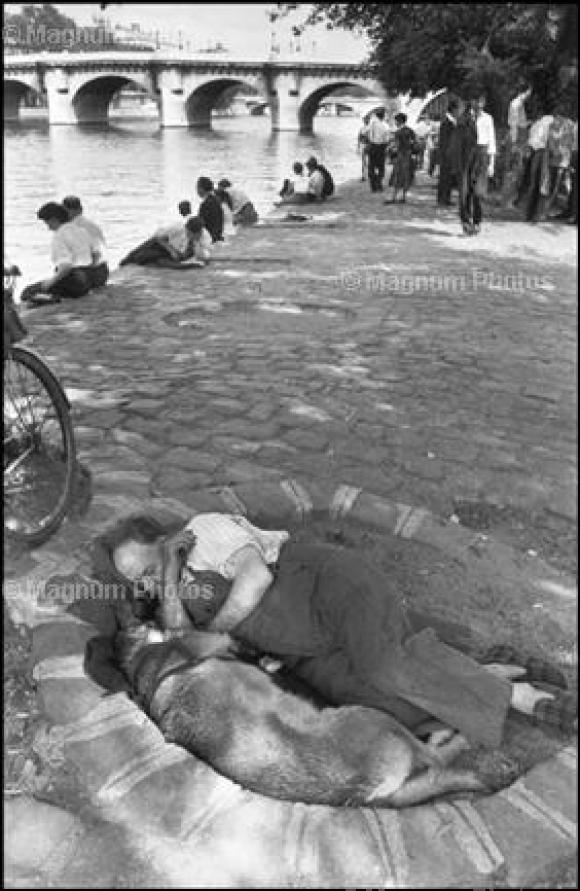 Henri Cartier-Bresson: Frankreich/Paris, 1956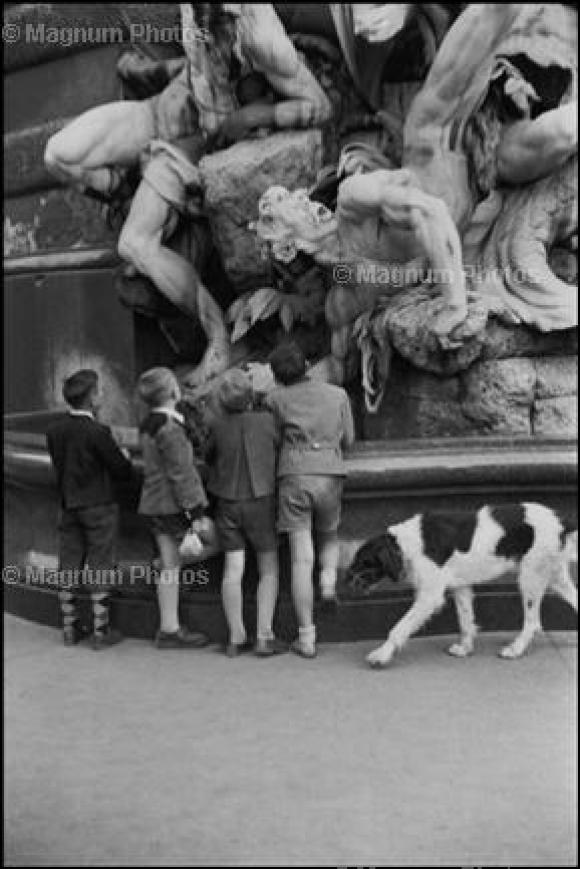 Henri Cartier-Bresson: Österreich/Wien, 1955
Auf der Magnum Homepage finden Sie annähernd 100 Fotos mit Hunden, ich habe nur diese wenigen ausgesucht, um zu zeigen, wie formal streng komponiert jede Aufnahme ist und wie selbstverständlich und gelassen Cartier-Bresson die Nähe zwischen Hunden und Menschen darstellt.