Zur Zeit findet eine große Werkschau der britischen Künstlerin Zarina Bhimji in der Londoner Whitechapel Gallery statt. Die Künstlerin hatte schon bei der Documenta 11 (2002) ausgestellt und war für den Turner-Preis der Tate Gallery (2007) nominiert worden.
Zarina Bhimji wurde 1963 in Uganda geboren, ihre Eltern waren indischer Abstammung. 1974 verließen sie gemeinsam die ostafrikanische Heimat, zwei Jahre nachdem Idi Amin begonnen hatte, Inder und andere Asiaten, die seit der britischen Kolonialzeit dort lebten, aus Uganda zu vertreiben. Bhimji beschäftigt sich in ihrem Werk - großformatigen Fotoinstallationen und Film - mit Vertreibung, Migration, Exil.
Sie findet auf Grund eines wunderbaren Fotos Eingang in meinen Blog, das mich jedesmal aufs Neue berührt, wenn ich es sehe: Rado Watch, Such Western Precision (2006), Teil der Werkgruppe Love (1998 – 2006).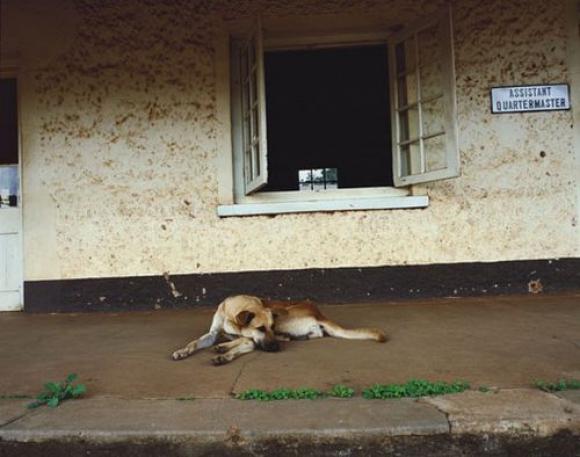 Zarina Bhimji, Rado Watch, Such Western Precision, 2006; © Zarina Bhimji
Seit ich Bhimjis Beschreibung dieser Fotoserie gelesen habe, weiß ich, dass mein Gefühl mit ihrer Absicht übereinstimmt: Schönheit und Zärtlichkeit auszudrücken.
I work in a way where information and research become a crucial starting point in my work. This allows me to put certain myths and realities to the test.
It is important the work expresses beauty and tenderness. The spaces have special atmosphere and the space around it has an intense beauty. It is sad and has a subdued air about it. For me the earth was coming off its hinges.
A landscape mediated through a solitary individual. A little sunlight and big sky with the edges of plantain trees and the puffy clouds bring thunder, lightning and brief, pounding rain. The atmosphere of weeping sky. I need to understand large scale betrayal, grief, love, violence, spirituality.
Hauptdarsteller ihrer Kunst sind meist verlassenen Orte, Räume, architektonische Oberflächen, unbewohnt und menschenleer. Bhimji ist die Forscherin und Archäologin dieser Orte, die nichts Konkretes preisgeben, deren Schönheit die Gewalt überlagert, der sie ausgesetzt waren.
Rado Watch bildet insofern eine Ausnahme, als es eine Geschichte erzählt: Der Hund liegt auf der Veranda eines Regierungsgebäudes, durch das Schild assistant quartermaster definiert, Überbleibsel britischer Bürokratie und Verwaltung.
Das Zitat Bhimjis "A photograph cannot give you concrete information" habe ich vom Blog Africa is a country.
Vom 1. Juni bis 2. September 2012 stellt Bhimji im Kunstmuseum Bern aus.