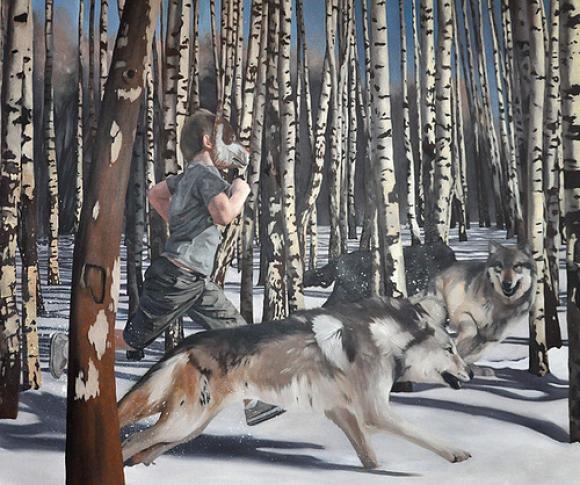 Wie so viele andere Künstler und Künstlerinnen seiner Generation beschäftigt sich Nate Frizzell mit den Gemeinsamkeiten und dem Trennenden von Tier und Mensch. Aus seinen Bildern spricht die Sehnsucht nach einer Verbindung - nicht ohne an der Grenze zum Kitsch zu schrammen -, die vermutlich nicht nur meine sentimentale Ader anspricht.
In seinen (foto)realistisch gemalten figurativen Bildern spricht der Künstler - er kommt von der Illustration her - besonders zwei Themenstellungen an: Das menschliche Verstecken hinter Masken und das Erwachsenwerden mit seiner beschwerlichen Selbstfindung.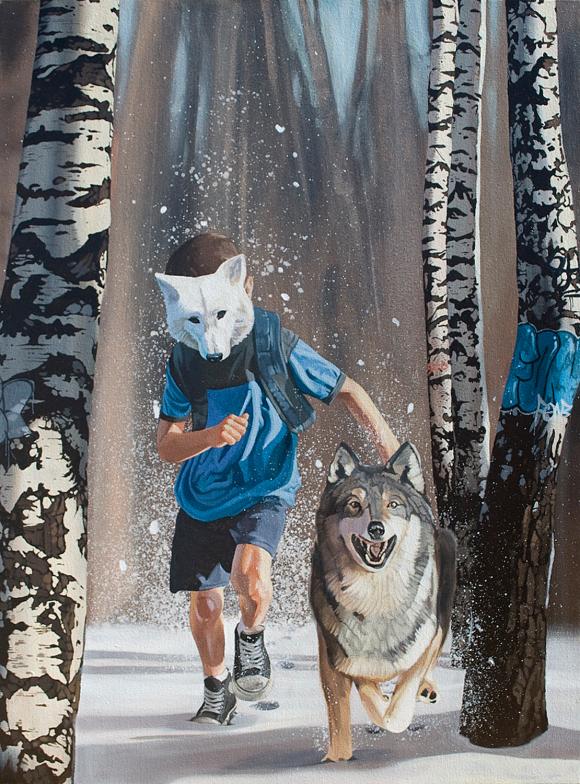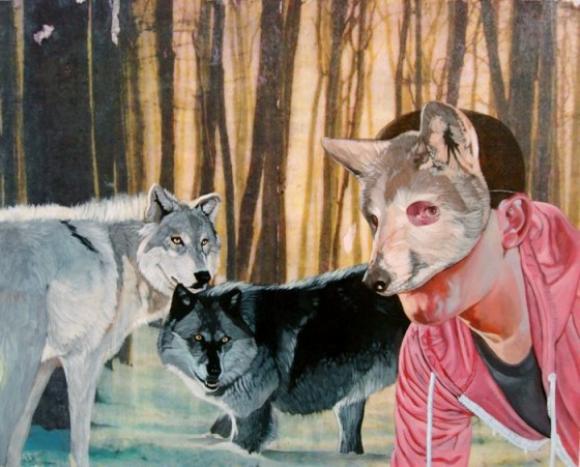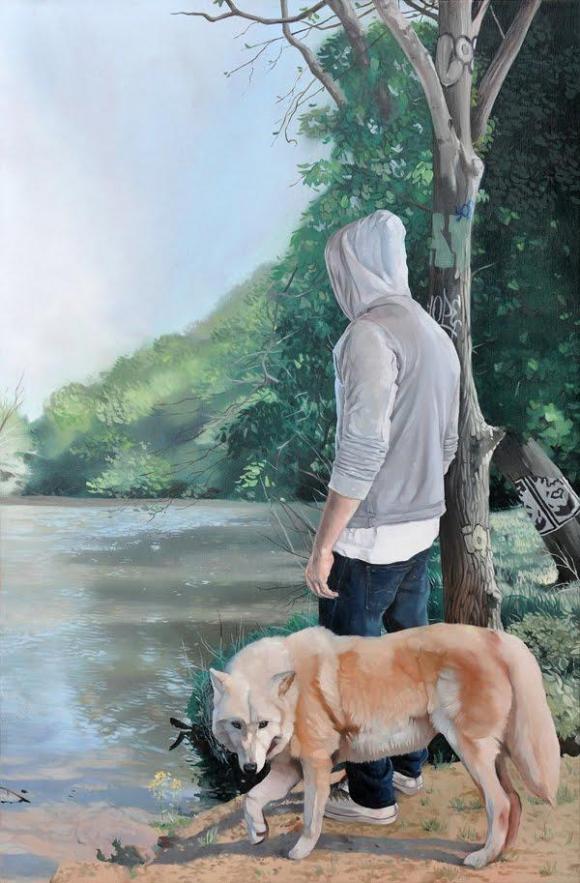 Masken tauchen in seinen Gemälden, die Tiere und Menschen in unterschiedlichsten emotionalen Settings darstellen, immer wieder auf. Skeptisch beäugen die Wölfe den Menschen mit der Wolfsmaske; begleiten sie das maskierte laufende Kind; bedrohen sie, den schutzlosen, weil unmaskierten Menschen etc.
Im Alltag tragen wir alle Masken und spielen Rollen, verstecken wir uns hinter Spitznamen in den sozialen Medien, passen wir unsere Kommunikation dem Gegenüber an. Die Masken in der Malerei verdeutlichen unsere inneren Wünsche und Sehnsüchte, den Wunsch die Fähigkeiten und den Charakter der Maske anzunehmen. Wollen wir nicht alle manchmal Wolf sein - wild und unabhängig?
Die letzte Frage kreist auch um den Bereich der Selbstfindung: Wer bin ich, wer möchte ich sein? Werde ich eine Maske - im übertragenen Sinn - aufsetzen oder ablegen?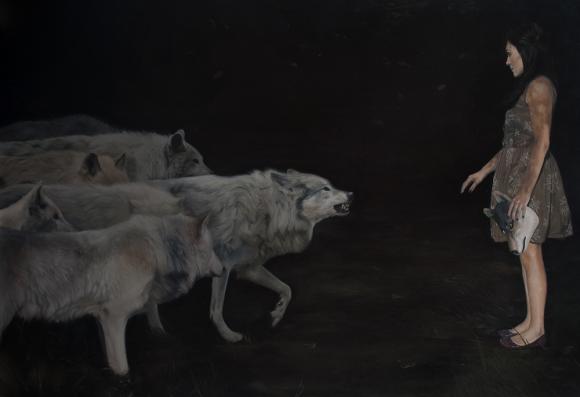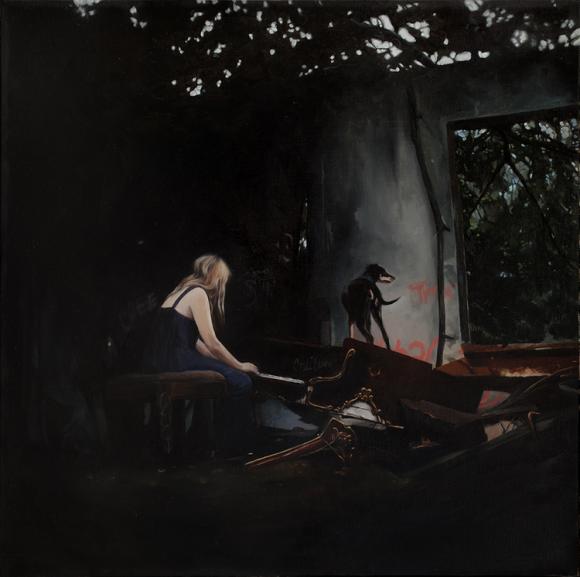 In seinen Szenarien bewegen sich der "urbane" Mensch (seine Accessoires sind Kapuzenjacke, Sneakers, Rucksack) und das "wilde" Tier durch eine meist winterliche oder dunkle Landschaft. Frizzell erzählt surreal angehauchte und emotional aufgeladene Geschichten von Kindern und Jugendlichen auf der Suche nach ihrer Identität. Dabei sind seine adoleszenten Protagonisten sympathisch und integer in ihrem Bemühen den Tieren nahe zu kommen, das Trennende zu überwinden.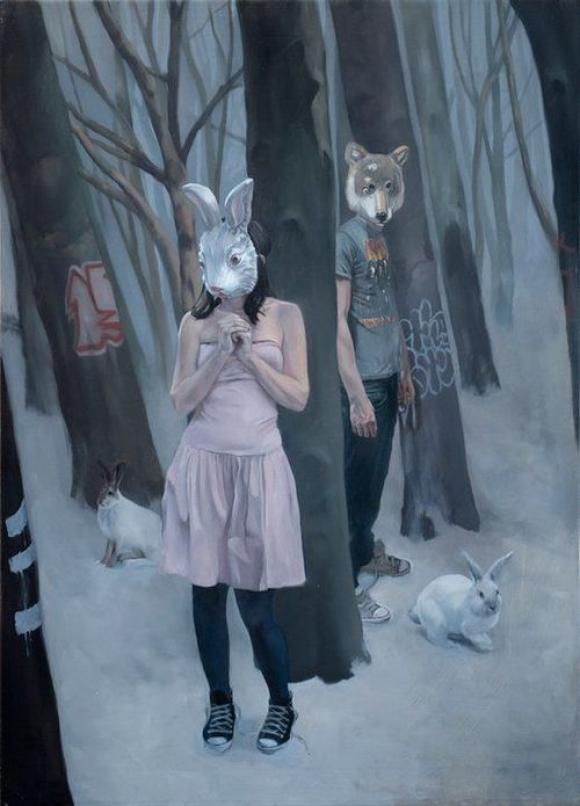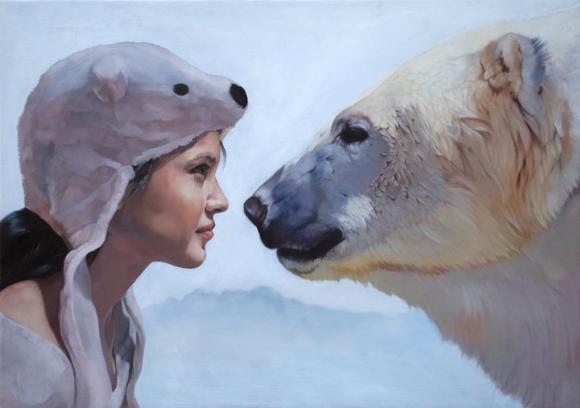 Zum Abschluss noch eine Kohlezeichnung: Der Mensch ist abwesend, nur eine Maske bleibt zurück.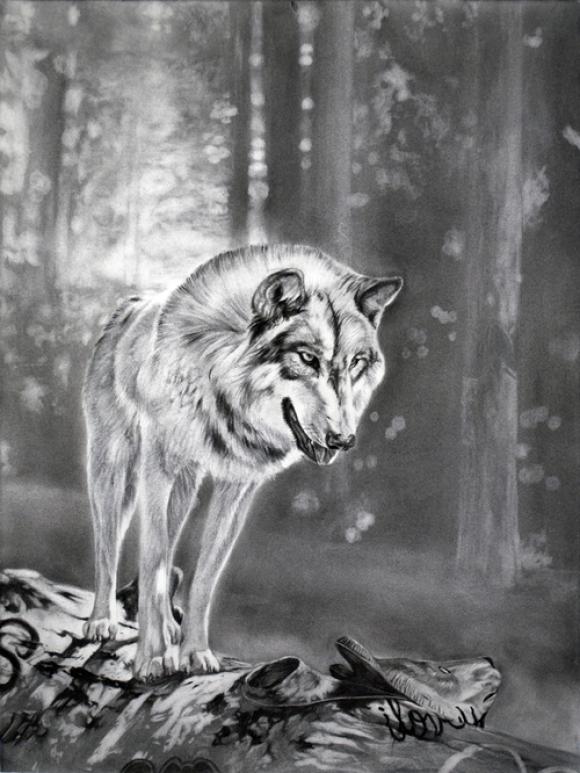 Nate Frizzell (*1984) studierte am Otis College of Art and Design und lebt und arbeitet in Los Angeles.