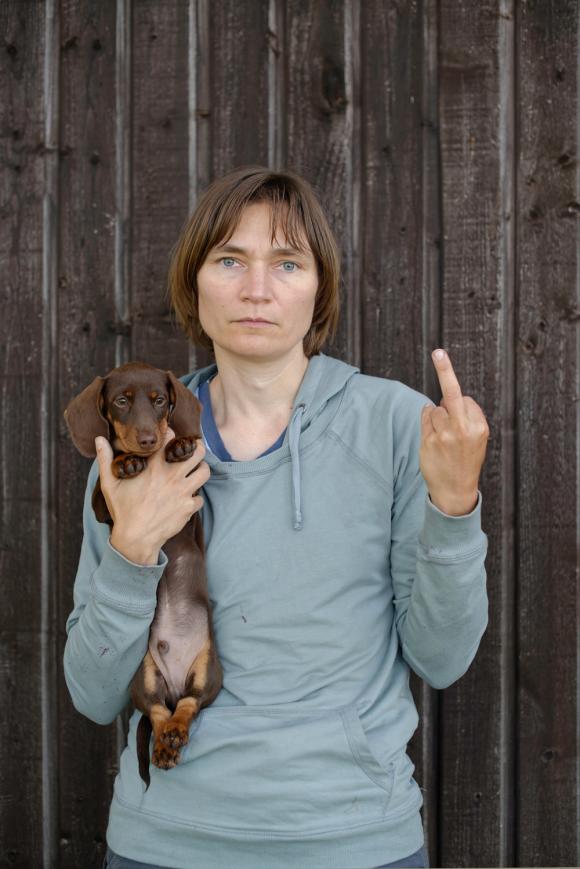 "My dog is cuter than your ugly baby" betitelt Elina Brotherus eines ihrer Werke. Das ist einmal eine Äußerung nach meinem Geschmack! Finde ich doch auch jeden Welpen weitaus entzückender und schöner als jedes Baby. Die international bekannte finnische Fotografin und Videokünstlerin hat damit meine Neugier geweckt.
Wie viele FotografInnen arbeitet sie in Serien, was sicher nicht nur künstlerisch bedingt, sondern den Methoden des Kunstmarks geschuldet ist (steigt ein Werk einer Serie im Preis, ziehen die anderen der gleichen Serie nach).
Viele ihrer Serien sind biografische Dokumentationen einzelner Lebensabschnitte, auf die sie quasi einen Blick von außen durch die analoge Linse wirft. Das Kabel des Selbstauslösers ist oft sichtbar und weist derart auf die Personalunion von fotografiertem und fotografierenden Subjekt hin.
In ihrer autobiographischen Bildserie "Annonciation" (2009-2013) setzt sie sich mit ihrem unerfüllten Kinderwunsch und der fünfjährigen erfolglosen Therapie auseinander, mit einer Thematik, die sie in der Kunst für tabuisiert hält. Die einzelnen Fotografien zeigen Menstruationsblut, Medikamente, nutzlose Hormontherapien: Stationen, die nicht zur Empfängnis führten.
Der Titel der Serie stellt die Verbindung zur Kunstgeschichte, zur Verkündigung Mariä, her.
This a story of false annunciations, about waiting for an angel who never shows up. First we don't know if he's there, because he could just be hiding behind the doorway. Gradually it becomes clear that he's not coming. (zit. n. hier)
Marcello - "My dog is cuter than your ugly baby" - steht am Ende der Serie, sie hat den Dackel anstelle eines Kindes in ihr Leben aufgenommen. Trotz scheint aus dem Titel zu sprechen. Mit dem ausgestreckten Mittelfinger präsentiert sich Elina Brotherus als eine weitere Frau, die das gängige Klischee des Hundes als Kinderersatz bedient.

In der Serie "Carpe Fucking Diem" (2011-2015) setzt sie sich mit einem Leben auseinander, das anders als erwartet verlaufen ist, einem Leben das sich der Zukunft mit Kind verweigert. Allerdings kann Elina Brotherus sich durch ihre Kinderlosigkeit dem Erwachsensein und der Normalität verweigern, wie sie sagt.
I don't have children so I don't need to adopt any preconceived role of an adult. I can give normality the finger. "Carpe Fucking Diem" is also about inventing strange games for the playground of the camera. (zit. n. hier)
Arbeiten aus der Serie "Carpe Fucking Diem"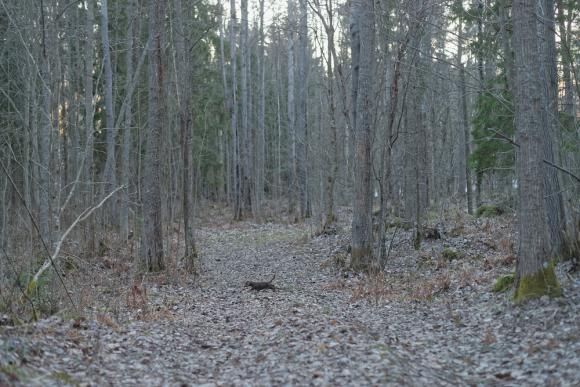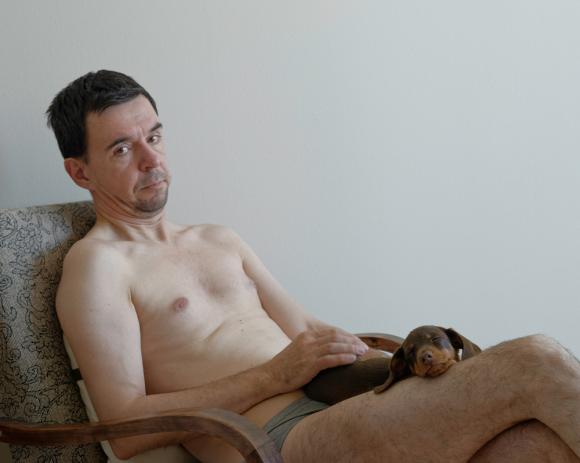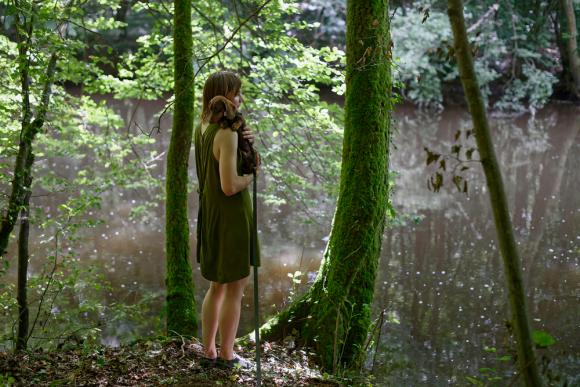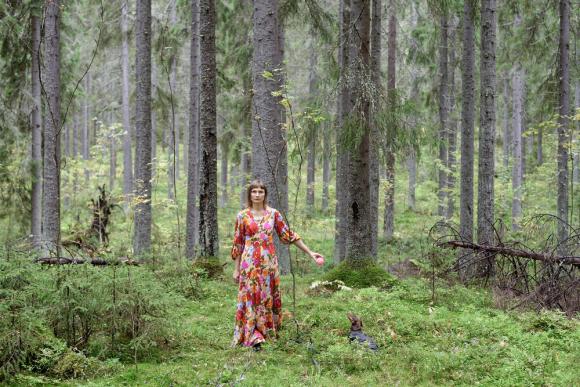 Neben den biographisch inspirierten Serien stehen Fotoserien, in denen sie sich mit der älteren Kunstgeschichte beschäftigt, sie eine "persönliche Forschungsreise in die Geschichte der westlichen Kunst" unternimmt (vgl. hier). So interpretiert sie in "The New Painting" z.B. die Rückenansichten C.D.Friedrichs. Sie posiert, inszeniert und positioniert sich auf bestehenden kunstgeschichtlichen Positionen. Elina Brotherus setzt sich auch mit Fluxus auseinander, in der Serie "Regles de jeu" inszeniert sie sich nach fremden Anleitungen und Anweisungen, in der Serie "The Baldessari Assignments" stellt sie Baldessaris Handlungsanweisungen dar. Eigens für die Wiener Ausstellung arbeitet sie sich an Valie Export, Maria Lassnig und Erwin Wurm ab.
aus der Serie "The Baldessari Assignments"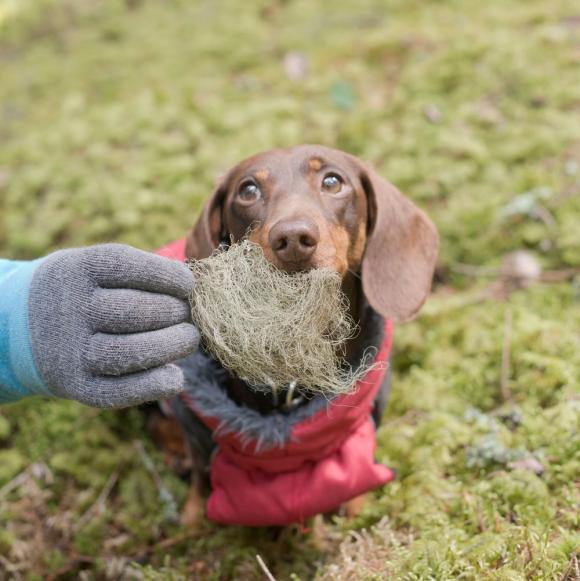 After John Baldessari, Dress a dog or a cow with a beard,
from Thirty-Nine Journal Entries, 1970
aus der Serie "Regles de jeu"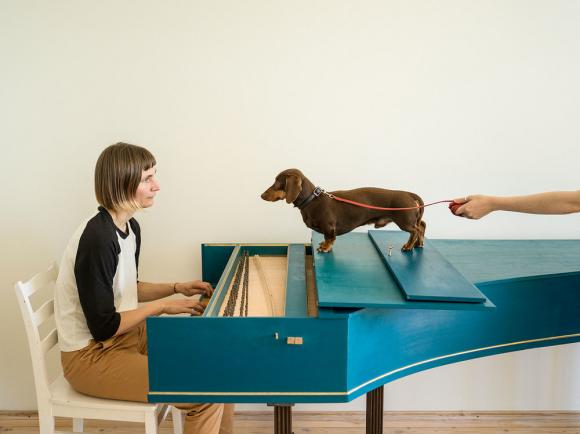 After George Maciunas, 12 compositions for piano – for Nam June Paik, Composition no.5:
Place a dog or a cat (or both) inside a piano and play Chopin, 1962,
and after Flux-Harpsichord Konzert, Akademie der Künste,
Berlin, organised by René Block, Sept. 3, 1976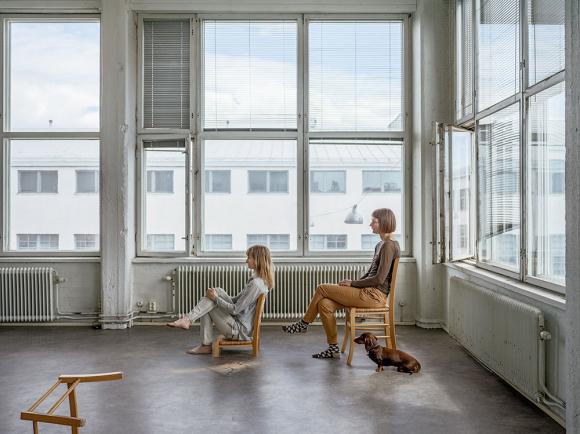 After Tuomas Timonen, Is it possible to sit so low? 2017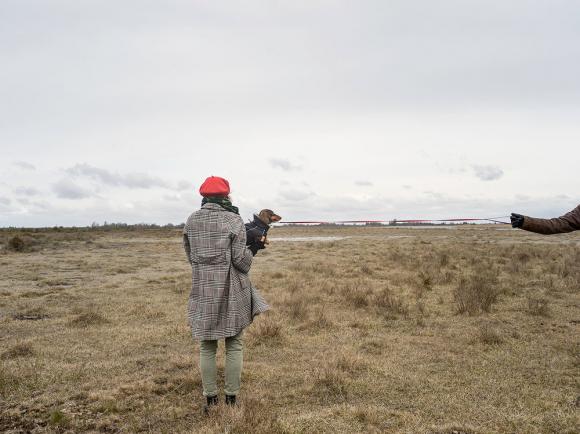 After Asta Gröting, Ich male einfach was ich sehe, 1985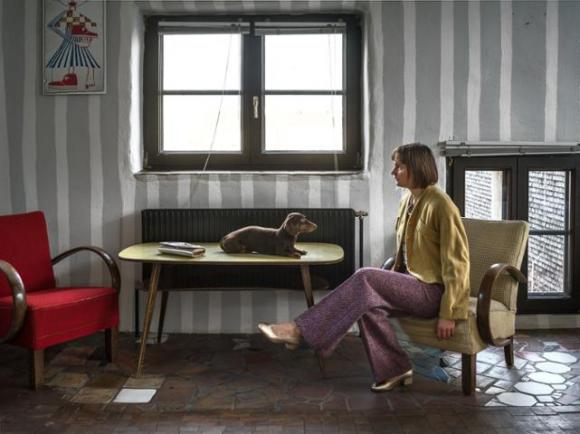 Hundertwasserhaus mit Hund, aus Vienna Work 2018
Zweifellos ist Brotherus Werk formal perfekt, wirken manche Fotografien auch auf Grund ihrer Größe, dennoch lassen mich ihre Arbeiten unberührt, bleibt ein schaler Eindruck zurück. Vielleicht ist sie mir zu ästhetisch in ihren biographischen Arbeiten und zu epigonenhaft in ihrer Bezugnahme auf die Kunstgeschichte.
Elina Brotherus (*1972 in Helsinki/Finnland) lebt und arbeitet in Finnland und Frankreich.
Noch bis zum 19. August 2018 sind im Kunsthaus Wien die wichtigsten Werkserien (1997-2018) in der Mid-Career-Retrospektive "It´s Not Me, It's a Photograph" (auch der Titel scheint der kunsttheoretischen Mottenkiste entsprungen) zu sehen.
Quellen: Kunsthaus Wien, Kurier, Die Presse, Der Standard, Parnass, Salzburger Nachrichten
alle Bilder © Elina Brotherus