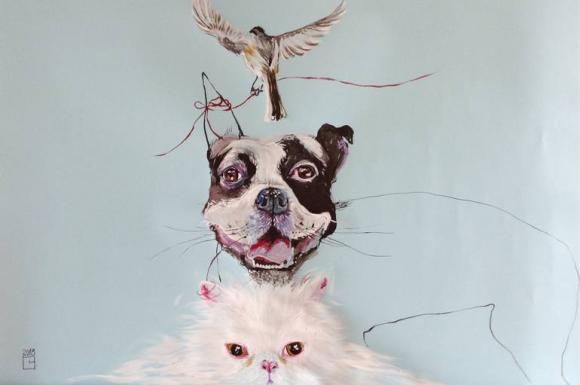 Die Barthaare dieser beiden verschmitzten Terrier wachsen und wachsen ...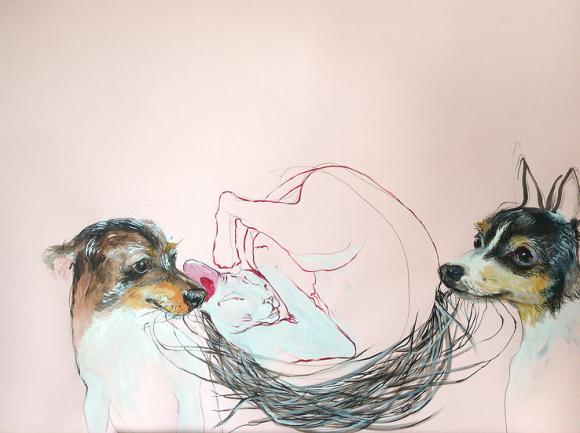 ... und schon wird das Nest einer sich - vor Lachen? - kugelnden Katze daraus! Mein Lieblingsbild von Olga Gal und seine Entstehungsgeschichte:
"When I start I never know what I'm going to do, I started this piece with the two dogs and than all developed from there, ad a cat, than the whiskers and finally the nest was born, that linked the three together. Is all about a game with the pencil and the brush everyday, nothing else." (zit. n. Olgas Blog)
Hunde, Rehe, Katzen, Hasen, Füchse, Vögel und Pferde gehören zu Olga Gals Repertoire. Wobei sie die Tiere nicht getrennt voneinander darstellt, sondern sie zumeist verschmilzt. Sie stellt dabei weniger oft hybride Wesen dar, als sie die Tiere vielmehr durch ein lineares Übereinander (und nicht durch Hintereinander/Staffelung) miteinander kombiniert.
Dieses lineare Verweben - ein stilistisches Markenzeichen der Künstlerin - gelingt unterschiedlich gut und formal überzeugend. Jedenfalls besitzt die Künstlerin einen sicheren, ausdrucksstarken und sensiblen Strich, aber auch malerischen Schwung und Großzügigkeit.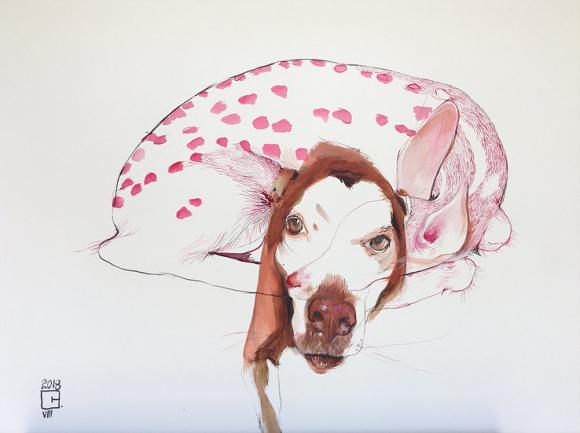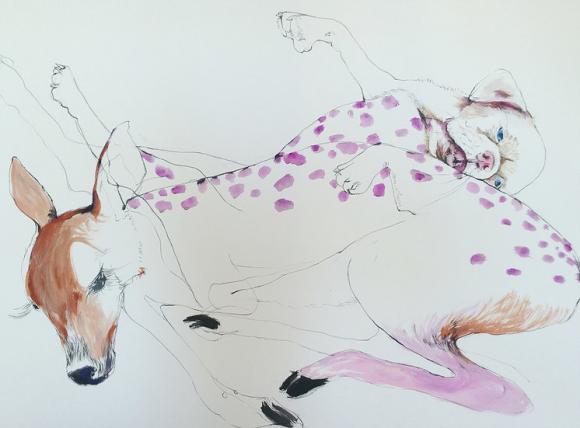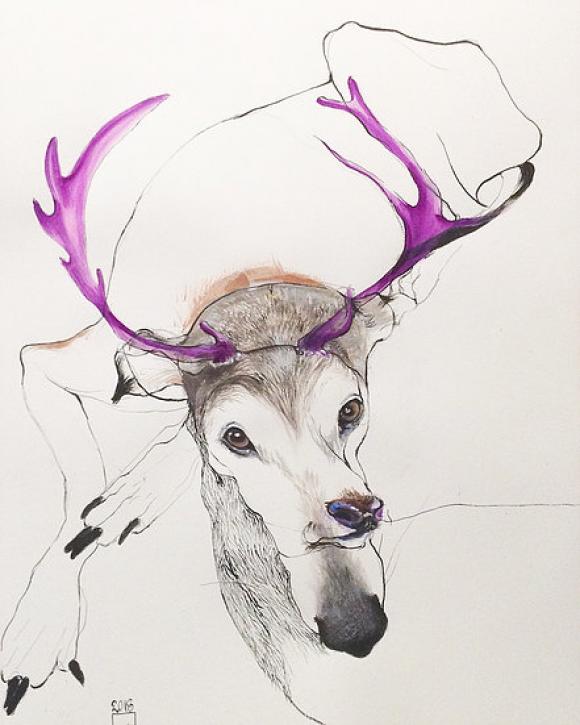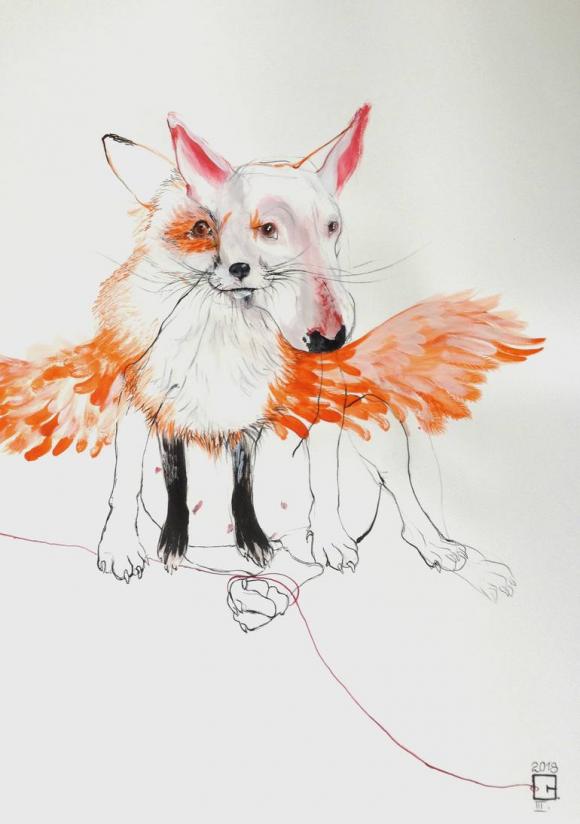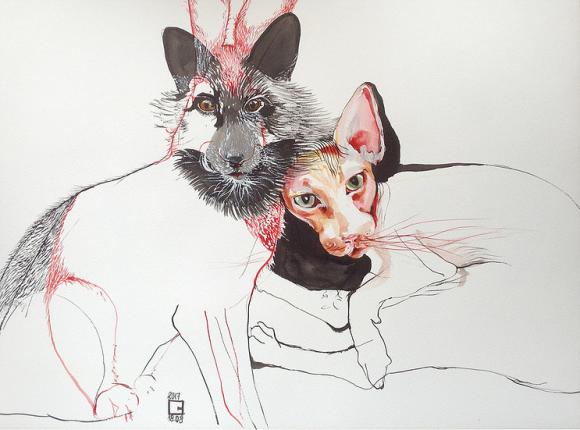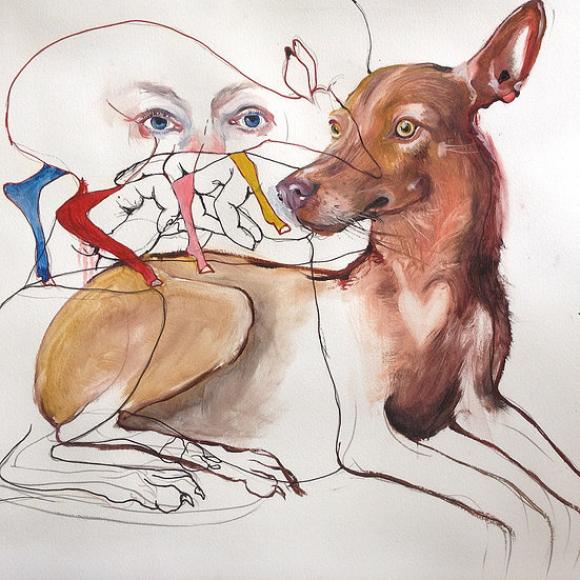 Mir persönlich gefallen die malerischen Arbeiten (wie das "Barthaarnest" oder "BOOO!") am besten, da sie weit weniger als die linear dominierten Arbeiten anfällig dafür sind, zur Manier zu verkommen. Der dynamische Pinselstrich arbeitet sozusagen gegen die Verniedlichung an.
Auch Tiere unterliegen den Trends in der Kultur (so werden am Buchmarkt gerade Vögel von Insekten abgelöst), in der Illustration sind Rehe und Füchse schon lange Mode; Hunde und Katzen gehen immer.
Auf Olga Gals Homepage finden sie eine Fülle von Arbeiten, nach Tiergattungen geordnet. Die Illustrationen werden auch in konkreten Wohnsituationen gezeigt: Das finde ich sehr sympathisch: Die Arbeiten haben eine dekorative Funktion, wollen Freude bereiten, zum Schmunzeln bringen. Sie dürfen auch dazu stehen, dass sie nicht auf mehr verweisen!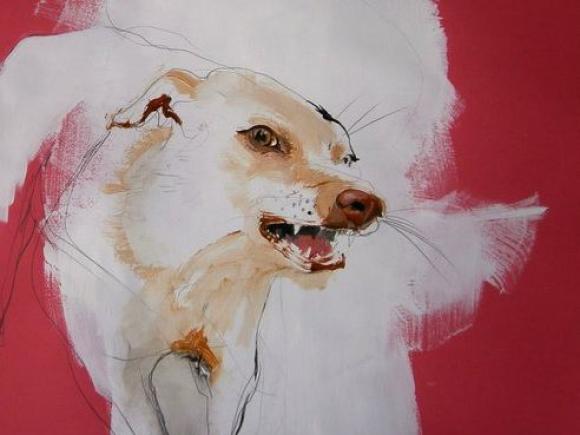 alle Bilder © Olga Gal