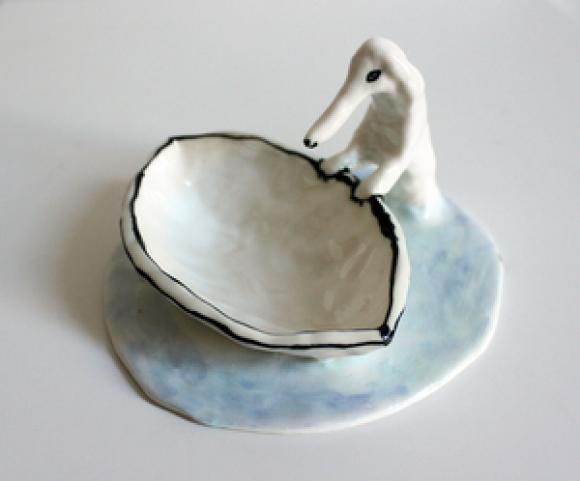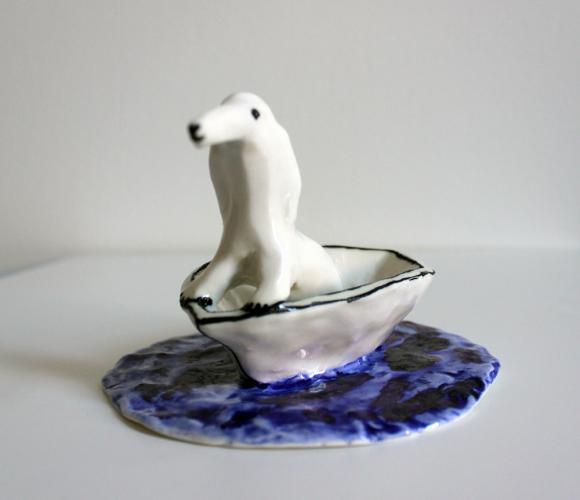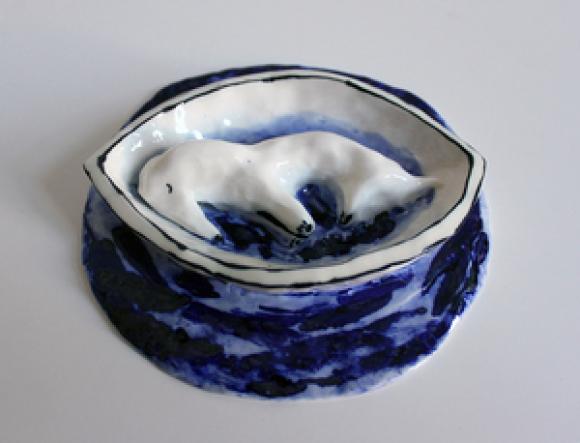 In diese kleine Werkgruppe "Lost Dog" der Schwedin Eleanor Boström habe ich mich beim ersten Anblick verliebt! Wie ein Steuermann auf der Brücke blickt der weiße Hund mit angelegten Ohren auf einen fernen Ort. Und erst der kleine Hund, der sich zum Ausruhen mit geschlossenen Augen in seinem Boot niedergelegt hat!
Obwohl meine Familie aus dem österreichischen Waldviertel stammt, einer dunklen und kalten Gegend, habe ich anscheinend eine maritime Ader, Wie sonst ist es zu erklären, dass ich schon vor dreißig Jahren auf der Hallig Langeneß einen Urlaub verbrachte - es würde mich nicht wundern, wäre ich die erste Österreicherin gewesen, die dort an Land gegangen ist.
Sehnsucht, Geborgenheit, Zuversicht, Aufbrechen und Ankommen, all das steckt in diesen kleinen keramischen Kunstwerken. Oder besser gesagt, all das sehe ich in diesen Skulpturen. Denn wie Emelie Johansson, eine Freundin der Künstlerin, hier schreibt:
The dogs look away and despite not search­ing for eye con­tact, they are com­mu­ni­cat­ing. The ques­tion is not always what the dogs are say­ing, the ques­tion is rather, what we see in them?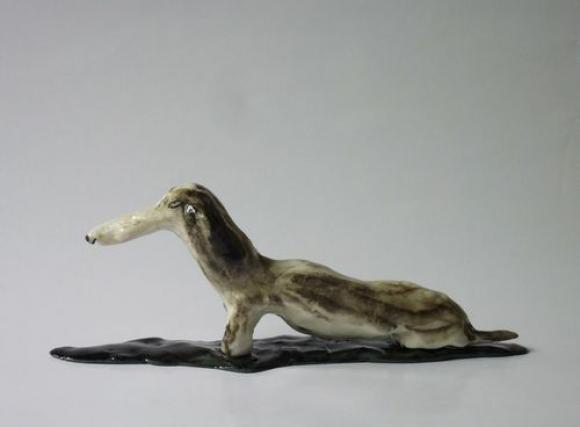 Seit Eleanor Boström in der Schule zehn Skulpturen der gefährdetsten Tierarten hergestellt hat, begleiten Tiere - im Besonderen Darstellungen des Hundes - ihr Werk thematisch. Inspiriert wird sie von ihrem Hund Tess.
Manche ihrer Arbeiten sind nicht nur wunderbar anzusehen, sie haben auch einen "Gebrauchswert" wie z.B. der "Dog in a Cup", der beim Kaffeetrinken zusieht oder der "Functional Dog", der schöne Dinge für uns aufbewahrt.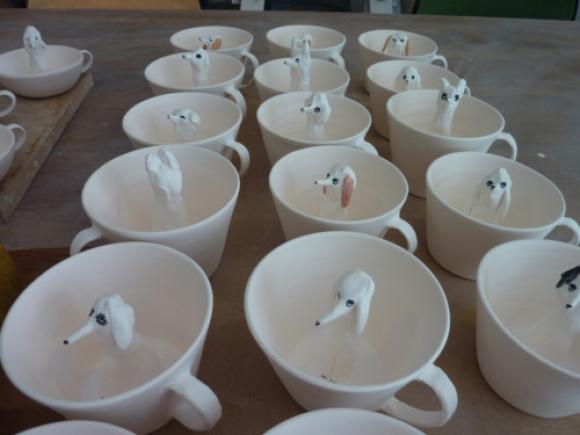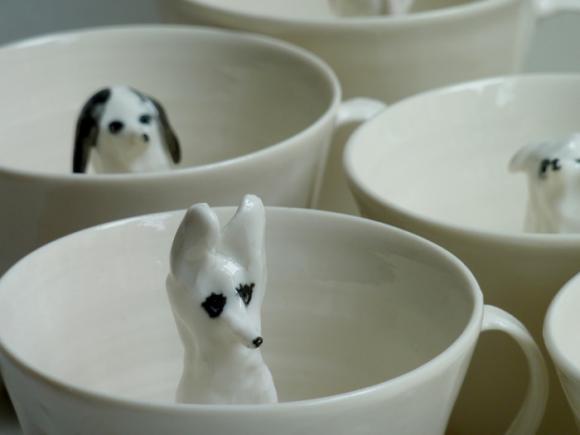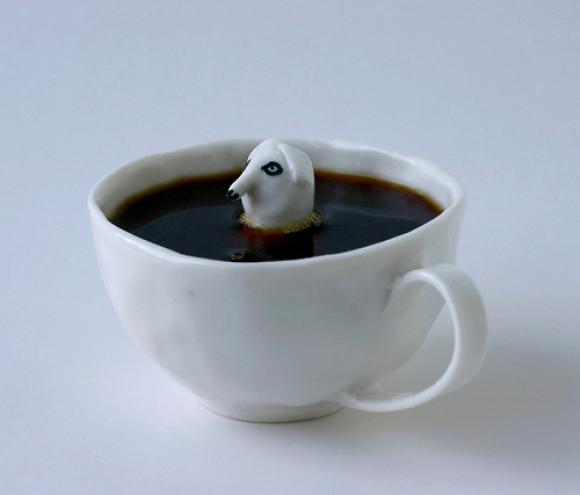 Mit diesem entzückenden Hundemädchen ist man beim Frühstück nie mehr alleine.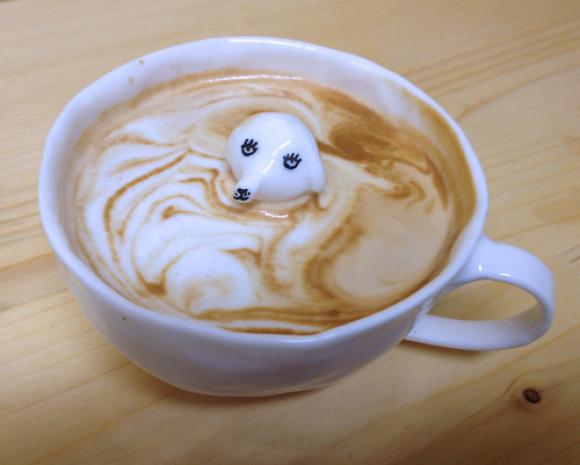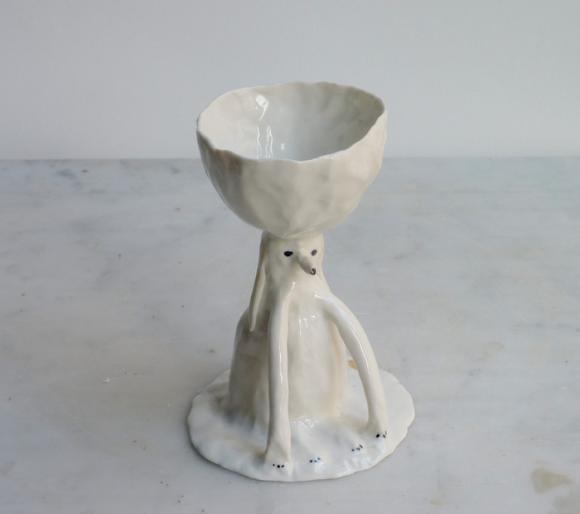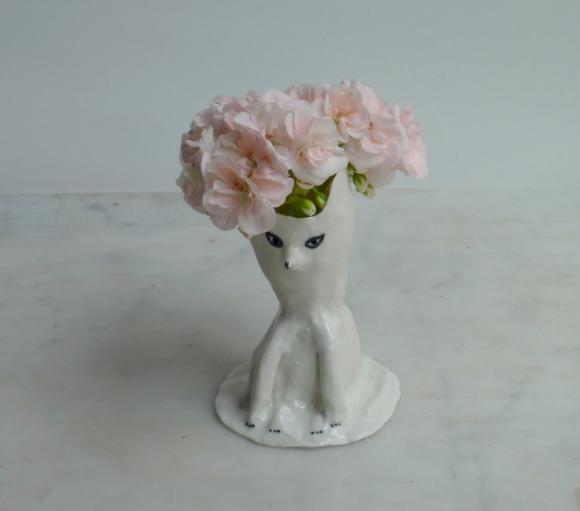 Die kleine Skulptur unten heißt "Tears", der Hund weint Salz oder Pfeffer. "Haberdashery" ist ein Kurzwarenhund und der Pudel versteckt einen Zahnstocher in seinem Schwanz.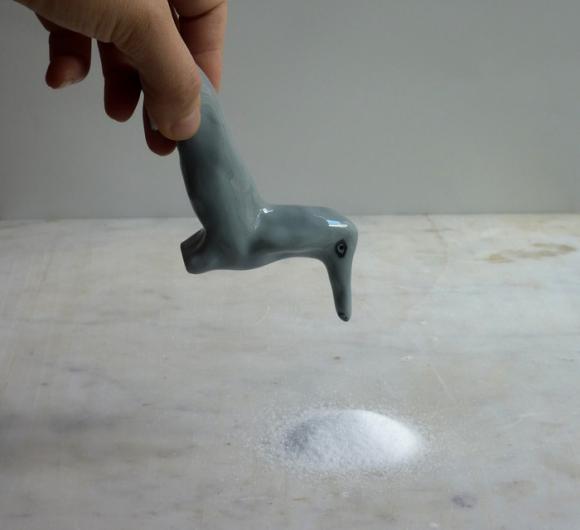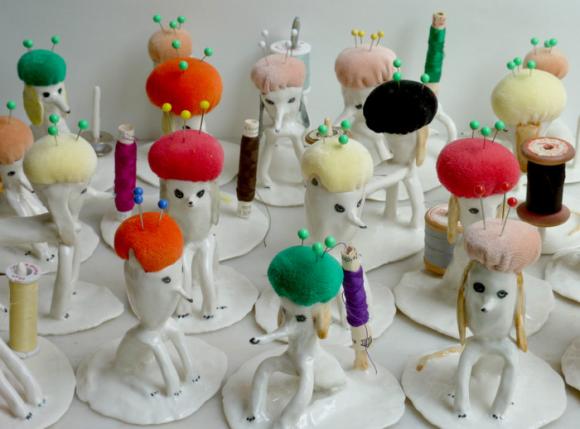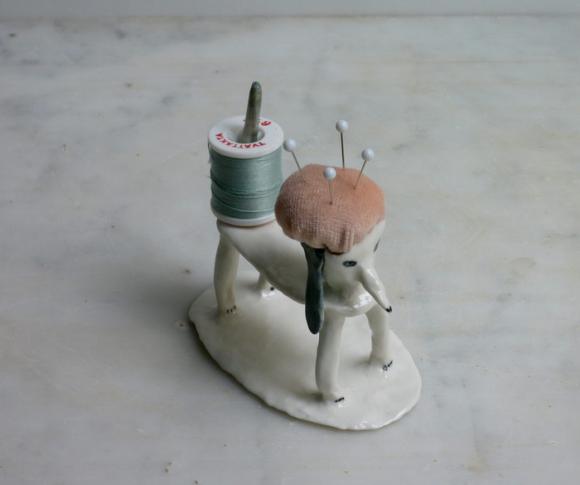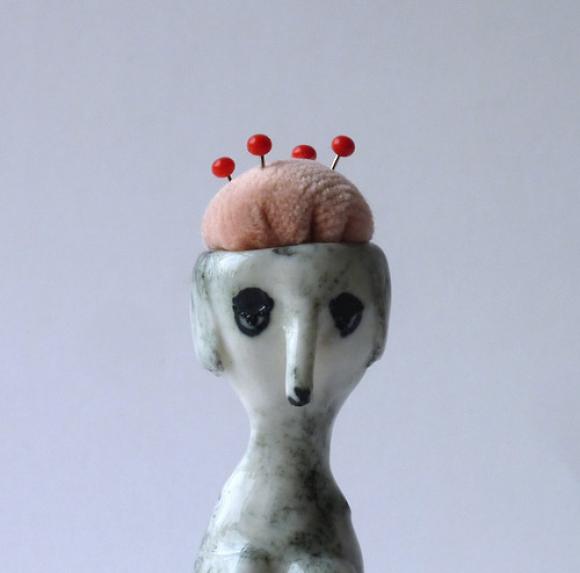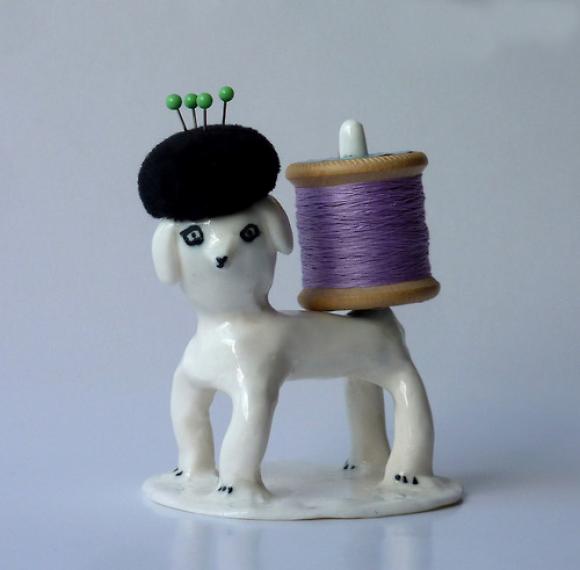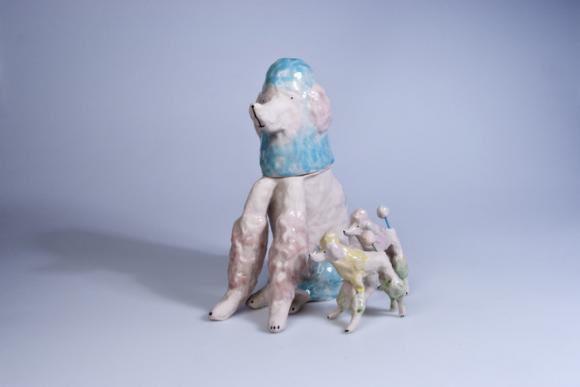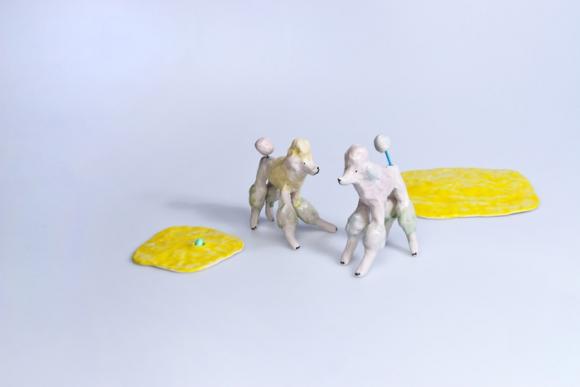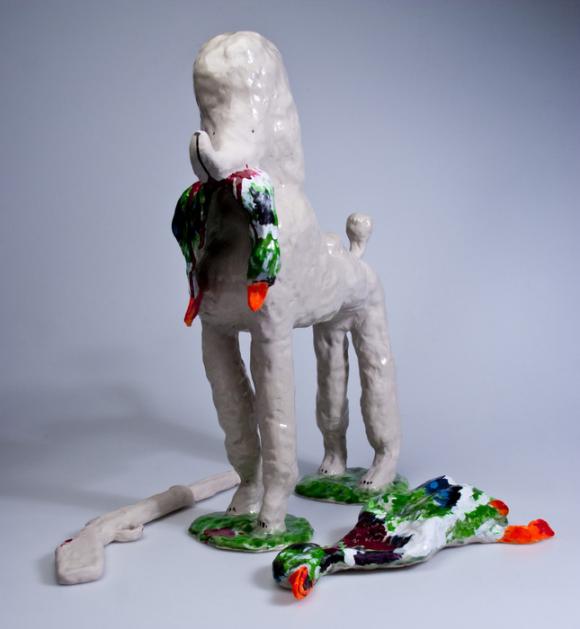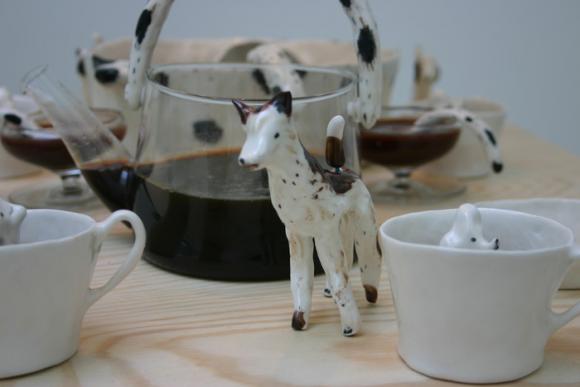 Zur Zeit ist "Lost Dog" in der Online-Galerie für Illustrationen eyra ausgestellt, wo man die Keramiken auch kaufen kann. Ich glaube, ich werde bald schwach werden! Arbeiten aus den anderen Serien kann man im Etsy-Shop der Künstlerin erwerben.
Genauso witzig, verspielt und beseelt wie ihre Arbeiten ist auch Eleanor Boströms Blog, in dem sie über ihre Arbeit und alles Interessante, das ihr unterkommt, schreibt.
Eleonor Boström, geboren 1985, kommt aus Stock­holm/Schweden und lebt und arbeitet zur Zeit in Berlin. Sie hat 2010 Kon­st­fack, das Uni­ver­sity Col­lege of Arts, Crafts and Design, abgeschlossen. Bisher hat sie in Schweden, Großbritannien und Deutschland ausgestellt.
alle Fotos @ Eleanor Boström