Das farbenfrohes Werk von Kim Leutwyler umfasst Gemälde, die sich mit Begriffen wie Schönheit, Geschlecht und queerer Identität auseinandersetzen. Viele ihrer Porträts zeigen ihre besten Freunde und Queer-Aktivisten, sie konzentriert sich auf diejenigen, die ihr Leben in irgendeiner Weise beeinflusst haben.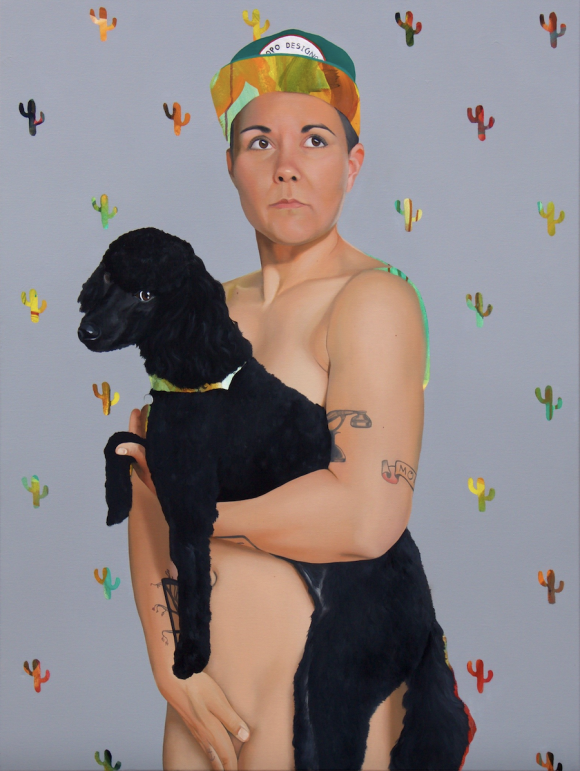 Das Porträt zeigt Nicole 'Cole' Rodriquez und ihren Pudel Sitges. Da die Porträtierte in Arizona aufgewachsen ist, wählte die Künstlerin für den Hintergrund Saguaro-Kakteen, die nur in der Sonoran-Wüste im amerikanischen Südwesten heimisch sind.
Kim Leutwyler malt nach Fotos, dennoch möchte sie keine fotorealistische Wiedergabe schaffen, sondern vielmehr einen Eindruck von der Person vermitteln und die Persönlichkeit und den Geschmack der Dargestellten durch Farben und Muster widerspiegeln.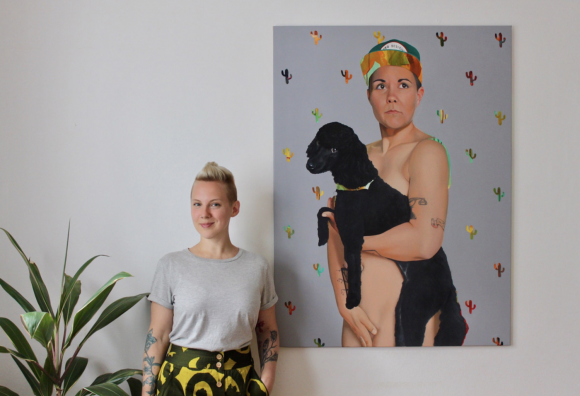 Kim Leutwyler vor ihrem Bild The "Boo and Baby Sitges" von 2017
Die in Amerika geborene und in Sydney lebende Kim Leutwyler wanderte 2012 nach Australien aus. Sie arbeitet mit einer Vielzahl von Medien, darunter Malerei, Installation, Keramik, Druckmedien und Zeichnung. Leutwyler hat einen Bachelor-Abschluss in Studiotechnik und Kunstgeschichte von der Arizona State University und zusätzlich einen Abschluss in Malerei und Zeichnung von der School of the Art Institute of Chicago. Ihre Werke wurden bereits in zahlreichen Galerien und Museen in Australien und den Vereinigten Staaten ausgestellt.
Quelle: booooooom, beautiful bizzare, bluethumb
alle Bilder © Kim Leutwyler