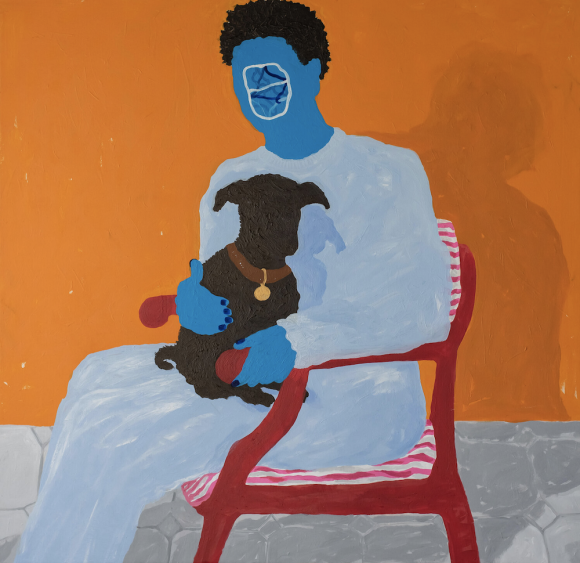 Der ghanaische Künstler Daniel Tetteh Nartey stellt seine Figuren in alltäglichen Posen dar. An der Körpersprache und den Haltungen zum Tier kann man die Zuneigung und Nähe ablesen, die Personen selbst zeigen keinen sichtbaren Ausdruck oder eindeutige Emotion. Stattdessen führt er eine Linientechnik ein, die Gesichter wiedergibt und ihr Wesen in einem Zustand der Entwicklung festhält. Die Hunde haben keine Gesichtszüge - spricht Ihnen Daniel Tetteh Nartey Entwicklungspotenzial ab?
Er bezeichnet seine Malerei als abstract pop fusion. Den Figuren gemeinsam ist die blaue Hautfarbe. Die flächig aufgetragenen Bereiche kontrastieren mit einer Vielzahl von Texturen, die er z.B. für Gras oder goldene Socken verwendet.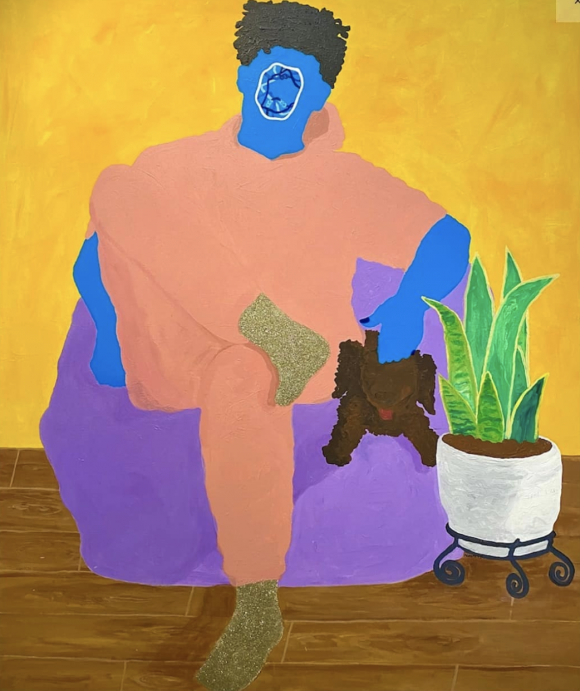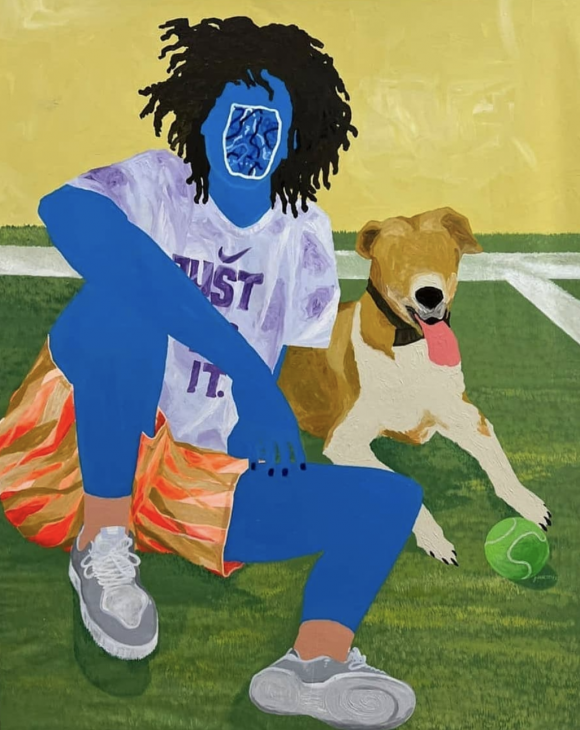 Daniel Tetteh Nartey (*1991/Ghana) beschreibt seinen künstlerischen Prozess als eine Gelegenheit zur Selbstverwirklichung. Er benutzt die Leinwand als Spiegel, um die eigene Gemütsverfassung (state of mind) zu visualisieren.
Er studierte am Ghanatta College of Art and Design, das Künstler wie Amoako Boafo, Otis Qwaku und Kwesi Botchway hervorbrachte.
Seine letzte Ausstellung fand in der Galerie Christopher Moller statt.
alle Bilder © Daniel Tetteh Nartey