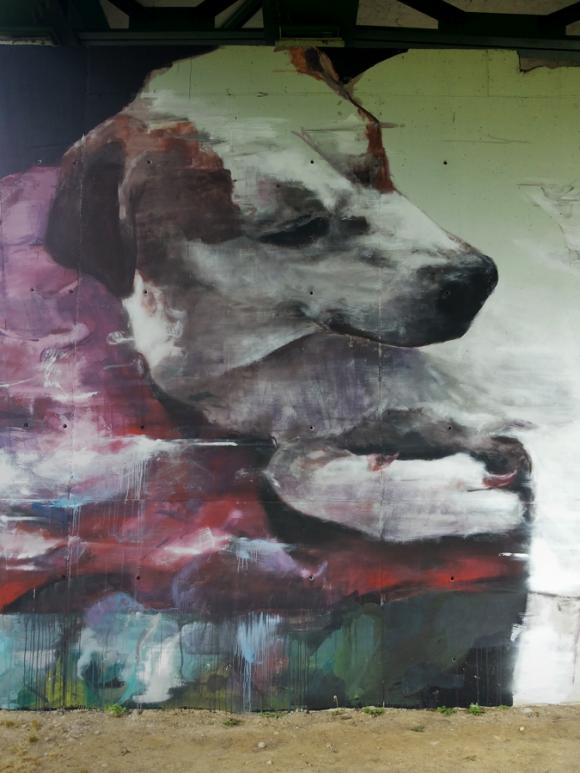 An alte Fresken erinnert dieser Hund in seiner zarten Farbigkeit, wie er sich leicht mit dem Kopf von seiner Liegestatt erhebt, als würde er etwas hören. Doch Sie haben kein Fresko vor sich, sondern eine Wandmalerei des jungen argentinischen Künstlers Francisco Bosoletti. Auf Einladung des Urban Canvas Project und In Zusammenarbeit mit der Stadtgemeinde von Varese hat er in der Unterführung der Viale Belforte das "Refugio" betitelte Bild gemalt.
Unten können Sie die Größe der Malerei abschätzen und seine Positionierung auf dem Brückenpfeiler. Folgerichtig und im wahrsten Wortsinne "unter der Brücke", also dort, wo jene leben, die kein Obdach haben, hat Bosoletti sein "Mural" angefertigt. Sehr interessant ist der Perspektivenwechsel innerhalb der Hundefigur. Zwischen Liegen und Stehen, Geborgenheit und Leere, Fläche und Linie wechselnd.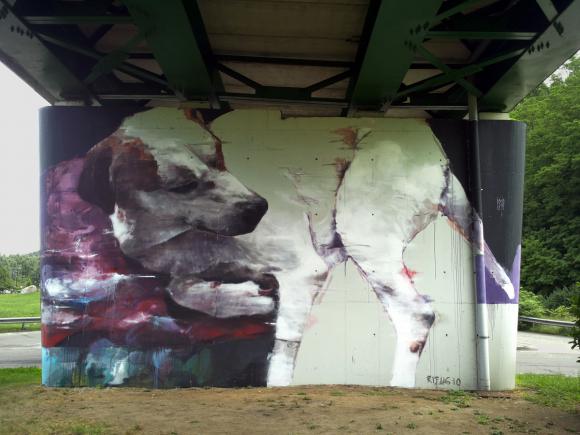 In this work I intended to represent how the search for a shelter is essential for all living things. Today, people forget how important this is. Instead the purity of a dog makes you realise how easily a shelter is made of material elements, but not so much of love, acceptance and protection. (zit. n. instagrafite)

Bosoletti spiega che in questa opera ha inteso «rappresentare come la ricerca di un rifugio sia essenziale per ogni essere vivente. Oggi le persone dimenticano quanto questo sia importante. Invece la purezza di un cane ti fa capire con semplicità di come un rifugio sia fatto non tanto di elementi materiali ma di amore, accoglienza e protezione». (zit.n. prealpina)
Italienisch spreche ich nicht, Englisch verstehe ich mäßig, deshalb der Versuch sinngemäß zusammenzufassen: Er will mit seiner Arbeit darstellen, wie wichtig eine Zuflucht für alle Lebewesen ist. Am Beispiel des unschuldigen Hundes zeigt er wie leicht materielles Obdach zu geben ist, wie schwierig es allerdings ist, Liebe, Akzeptanz und Schutz zu gewähren.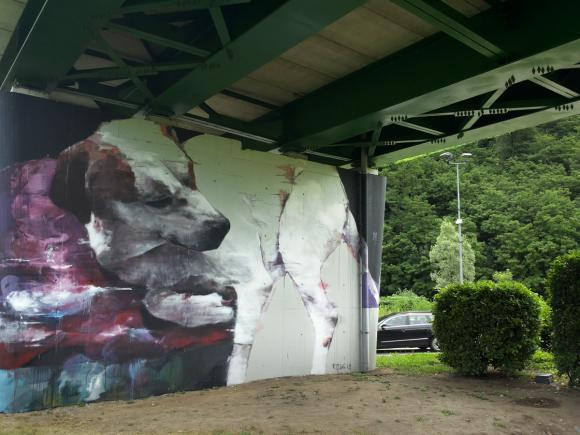 Francisco Bosoletti (*1988 Armstrong/Argentinien), hat Illustration und Grafikdesign in Rosario studiert und arbeitete in einer Werbeagentur, bevor er mit seinen großformatigen Wandbildern bekannt wurde. Wenn er nicht reist, um seine Kunst zu erschaffen, lebt er in seiner Heimatstadt Armstrong.
Auf seiner Instagram-Seite können Sie eine Zusammenschau über dieses poetische und sinnbildliche Werk genießen, das nicht bloß dekorativ ist, sondern mit dem Bewusstsein um soziale Verantwortung einhergeht.
Fotos © instagrafite