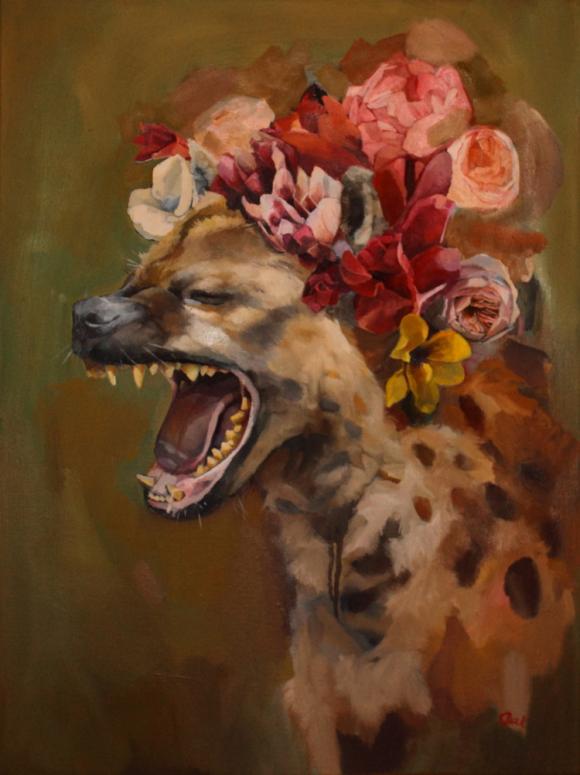 Alexandra Loesser zeigt eine im Naturalismus verwurzelte romantische Welt, die verschwunden ist oder die es so nie gegeben hat. Wölfe, Hyänen, Füchse, Tiger, Leoparden, Elefanten sind die bevorzugten Tiersujets der amerikanischen Malerin.
Doch diese "wilden" Arten treten in ihren Bildern in ganz zahmen Momenten auf. Sie drücken sowohl eine Distanz als auch eine Verbundenheit zu uns und ihrer bedrohten Umwelt aus, scheinen Herausgefallen zu sein aus einer bodenständigen Verankerung in ihrer Umgebung.
Bezeichnend dafür ist es, dass die Pfoten der Tiere manchmal in einem Meer von Blüten oder in diffuser Farbigkeit verschwinden. Hyänen und Wölfe stehen nicht mit den Beinen fest auf der Erde, sind nicht mit allen Vieren in der Wirklichkeit verhaftet, sondern scheinen in einem fluiden, spiegelnden Hintergrund zu schweben.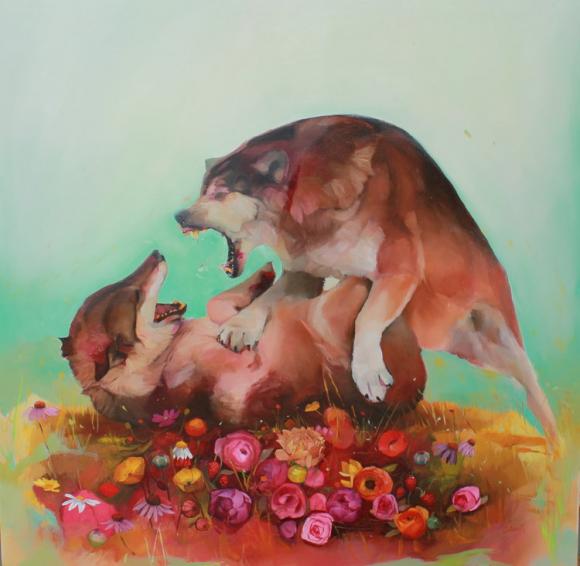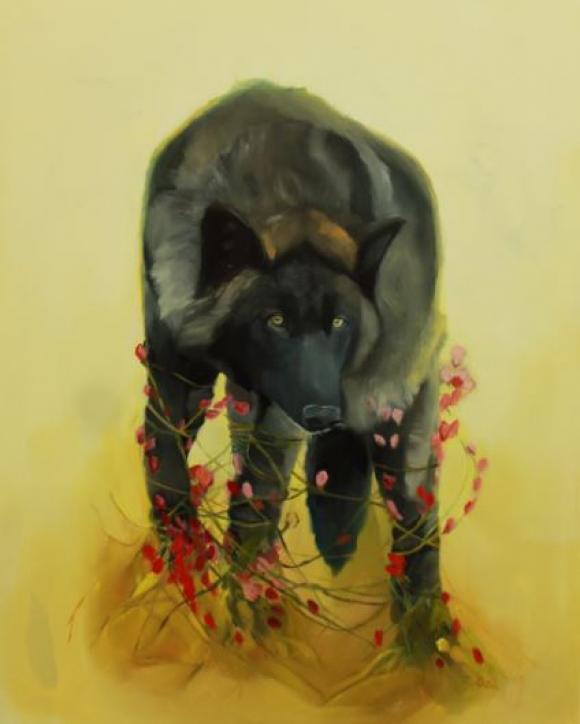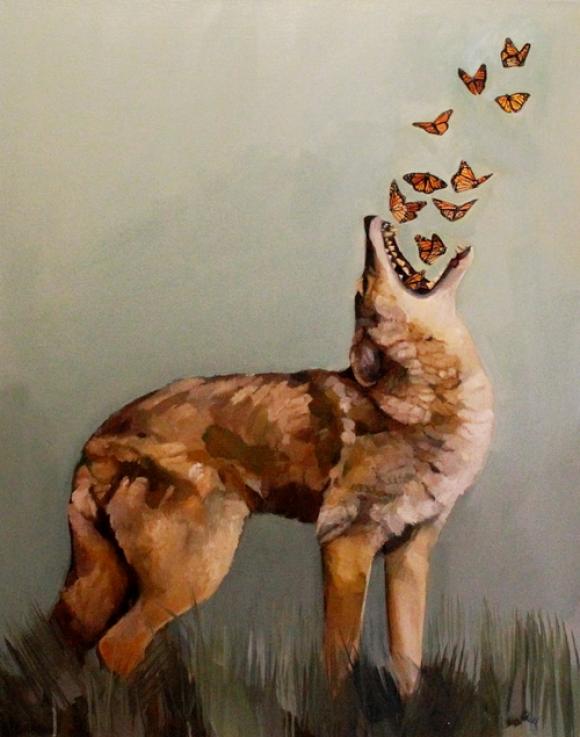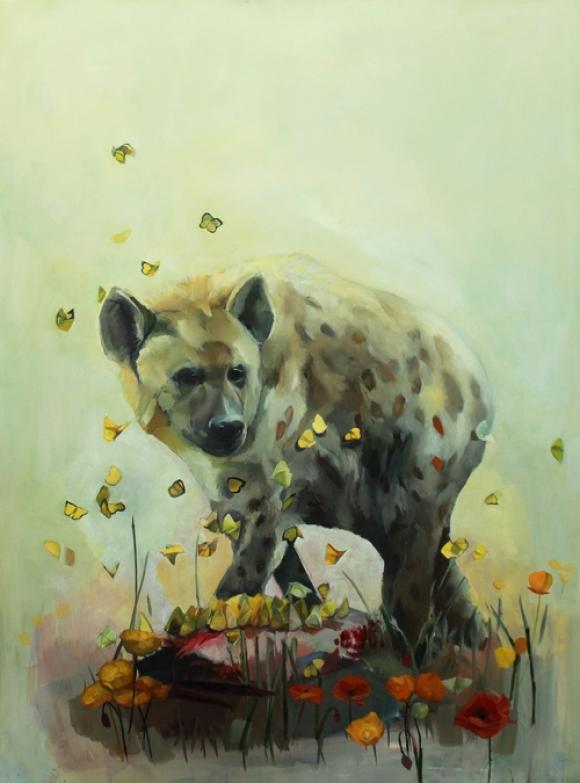 Auch um die Köpfe schweben Blüten, flattern Schmetterlinge. Die kleinen Kolibris sind mit den gleichen Fäden an die Hyäne gebunden, die deren Schnauze umschließen. Unklar ist, wer hier wen bezwingt und einschränkt - ein Gleichgewicht der Unfreiheit oder doch ein Bild der Verbundenheit? Auch die aufgerissenen Mäuler stehen im Gegensatz zur märchenhaften Geschichte, die sie illustrieren.
Die Rätselhaftigkeit verleiht den Bildern Tiefe, lässt über unseren (speziesistischen) Begriff des "Raub"tieres nachdenken; die Gemälde sind aber auch durch ihre bloße Schönheit eindringlich.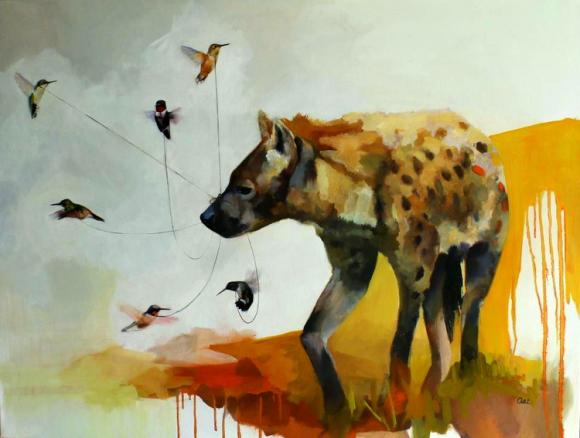 Sieht der Mähnenwolf nicht fast wie ein Reh aus?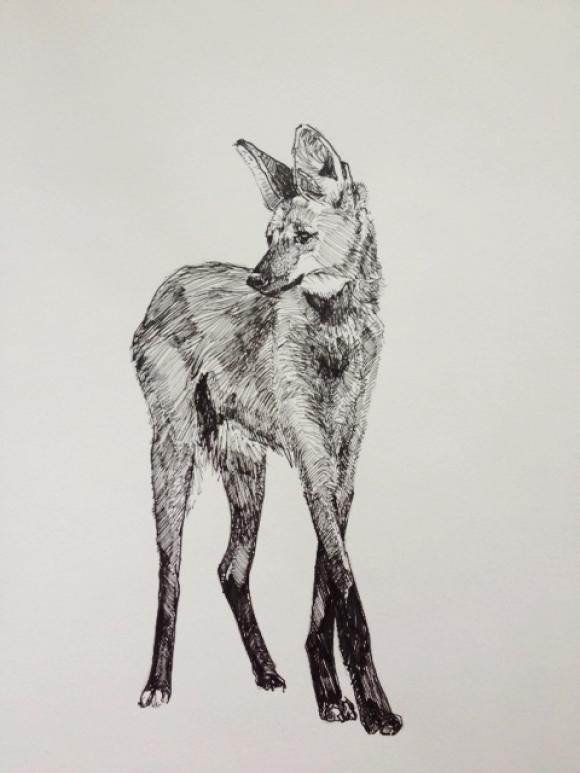 Alexandra Loesser schloss ihr Studium an der University of North Carolina in Greensboro mit dem Bachelor of Fine Arts ab. Obwohl die Künstlerin technisch sehr versiert ist, beschreibt sie ihre Malerei als sehr intuitiv. Nach wenigen Zeichnungen, die ihre Vorstellung fixieren, malt sie bereits auf die Leinwand und verändert oftmals instinktiv die zeichnerisch lockere Komposition, die erste Bildidee. Der Prozess des Malens, der für ein Bild nur Tage, aber auch Monate dauern kann, ist ihr wichtig.
Sie lebt in Charlotte, North Carolina.
Ein Interview mit der Künstlerin finden Sie hier:
alle Bilder © Alexandra Loesser