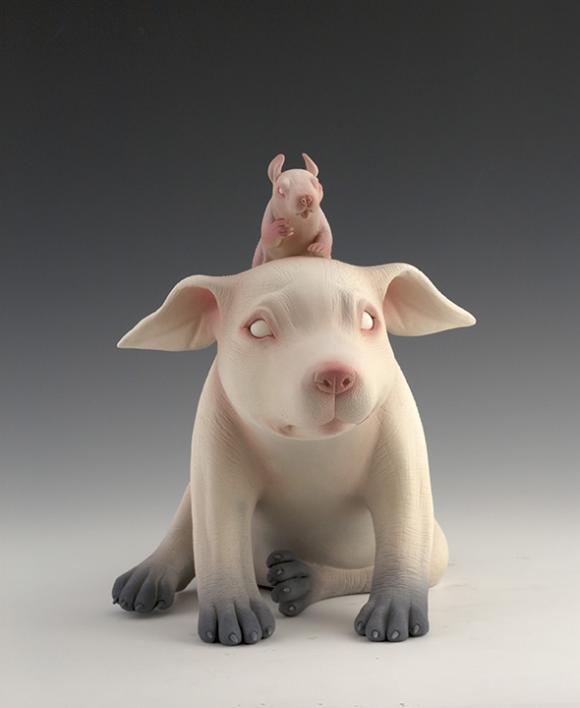 Charge
Unglaublich eigenartig und eigenwillig sind die wunderbaren Keramikarbeiten von Erika Sanada. Vögel, Ratten ud Hunde bevölkern ihr künstlerisches Universum - alleine oder in friedlichen und feindlichen symbiotischen Beziehungen. Jede Skulptur scheint, vor allem in Verbindung mit den aussagekräftigen Werktiteln, eine Geschichte zu erzählen.
Die Skulpturen lösen ganz unterschiedliche, ambivalente Gefühle aus: Unbehagen und Besorgnis, Grauen und Angst, Trauer und Hoffnungslosigkeit, aber auch Beschützerinstinkt und Freude.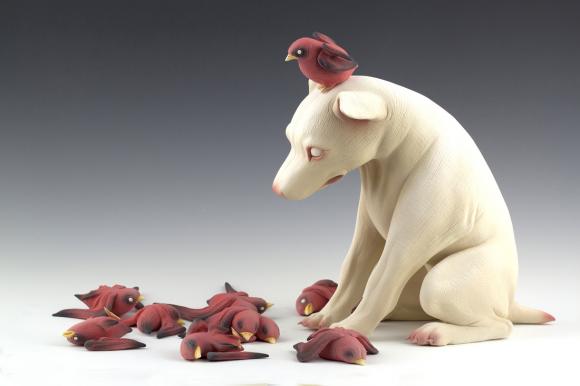 My Turn
Allen Kreaturen gemeinsam ist, dass sie keine Pupillen haben. Sind sie blind oder können sie dennoch alles "sehen"? Auch ohne Blick besitzen die Hunde eine ausdrucksstarke Mimik, lässt die Stellung der Ohren Rückschlüsse auf deren Befindlichkeit zu. Ohne Zweifel ist Erika Sanada eine gute Hunde-Beobachterin.
Einerlei ob es sich um die leeren Augen, die menschenähnliche Haut mit fein eingeritzten Texturen oder die physischen Anomalien handelt, erscheinen uns die Tiere sowohl liebenswert als auch beunruhigend in ihrem Leiden und ihrer Fremdheit. Oft erkennt man das Grauenhafte erst auf den zweiten Blick. Zu sehr evoziert das glatte Material und die zarte Farbakzentuierung der blassen Geschöpfe eine sensible Stimmung.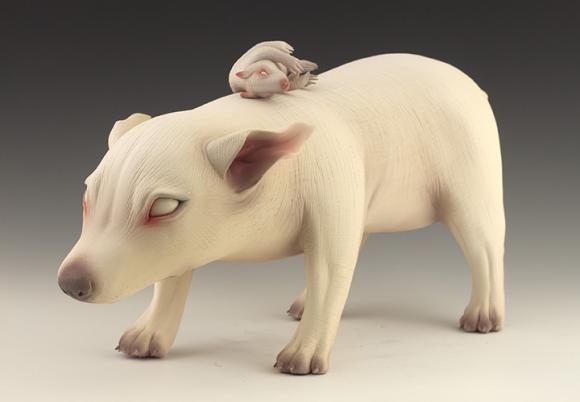 Returned Soldier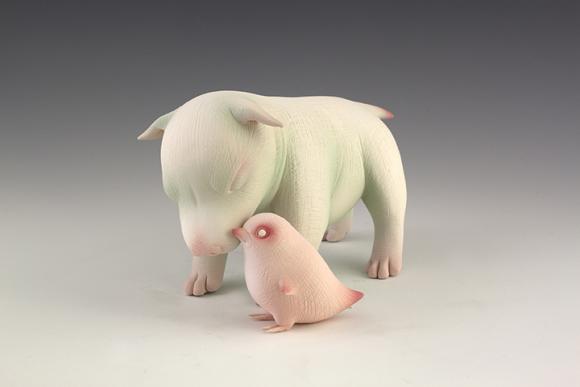 Buddy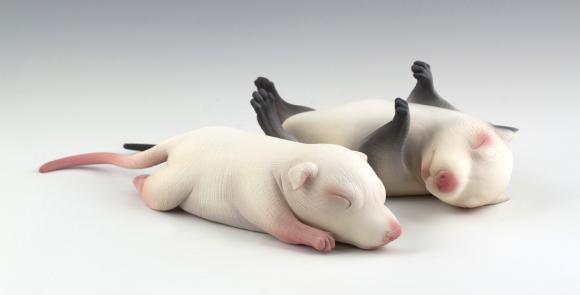 Dereaming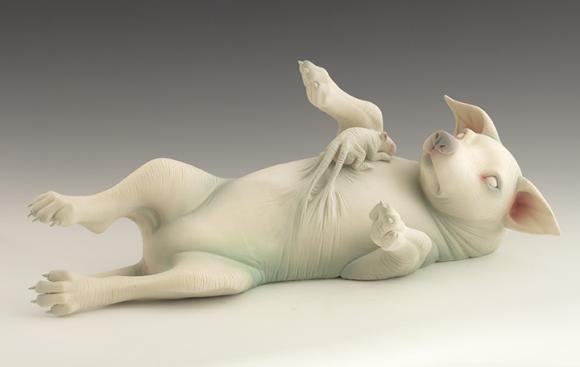 Assimilation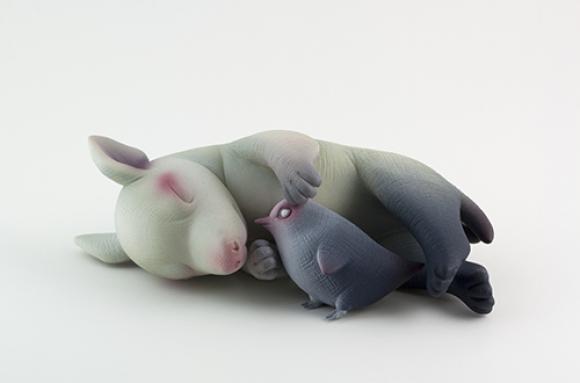 Cuddle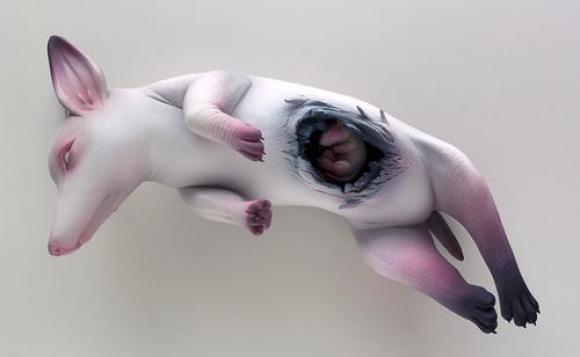 Symbiotic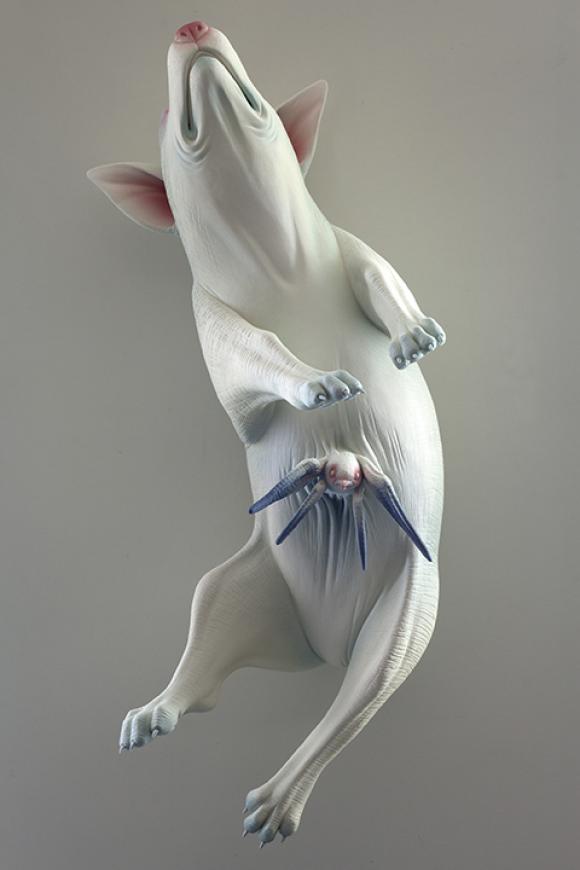 Stressed Out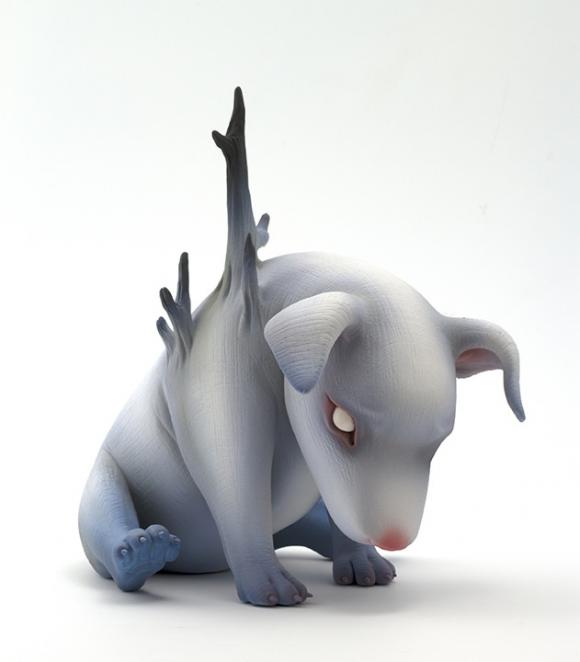 All Dried Out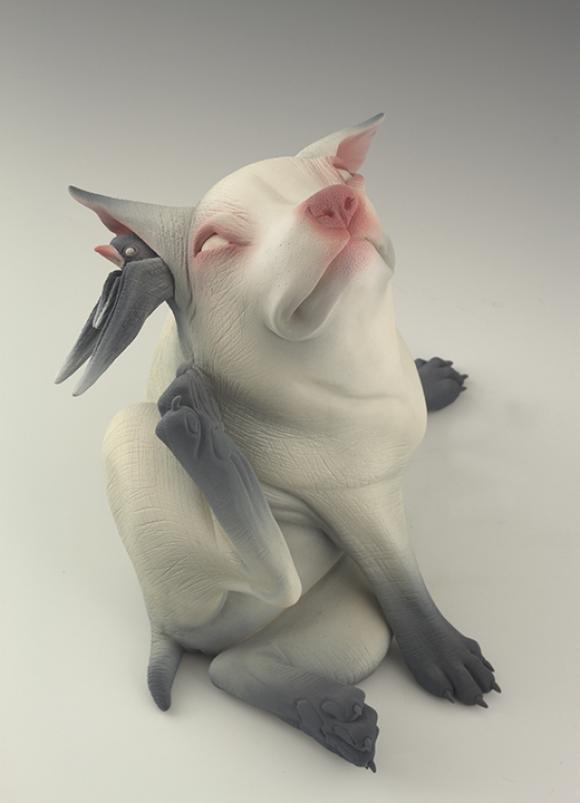 Itchy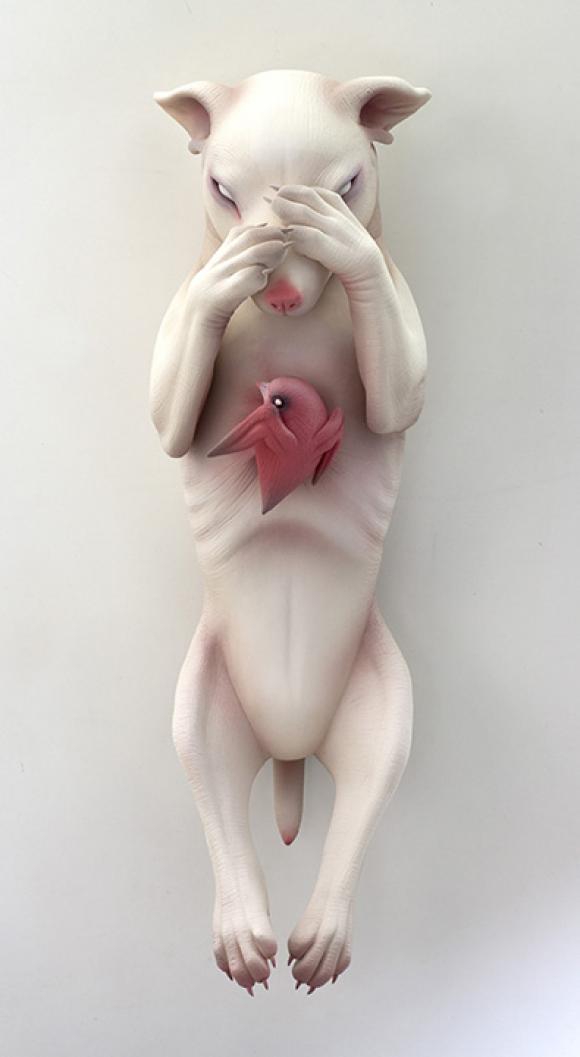 Chicken Hearted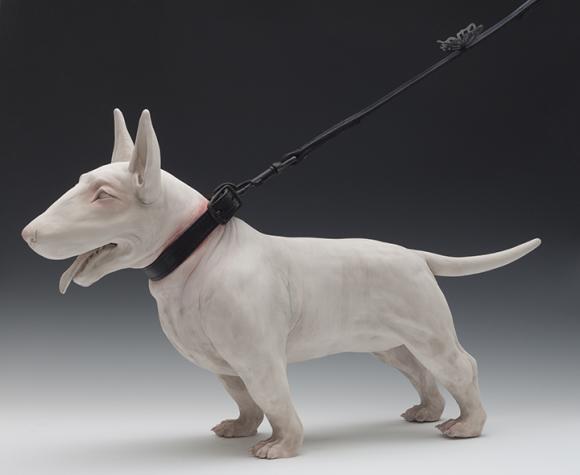 Let Me Go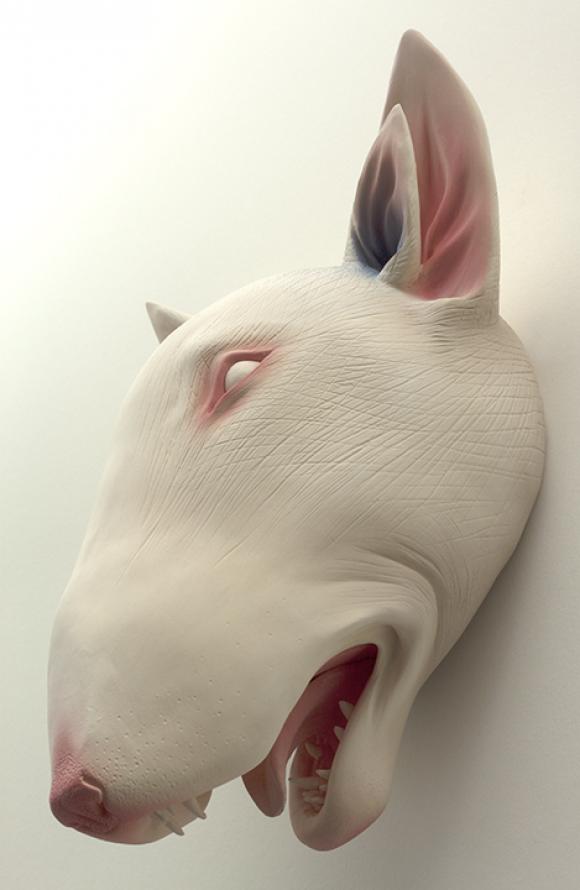 Echo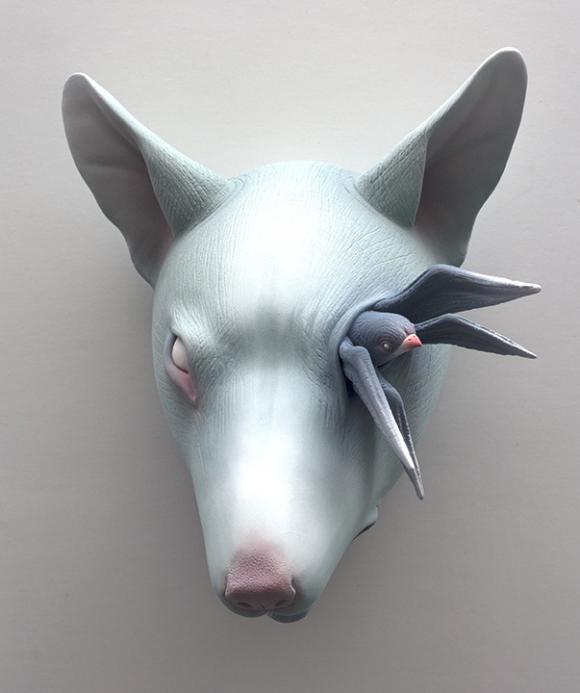 See Me Now?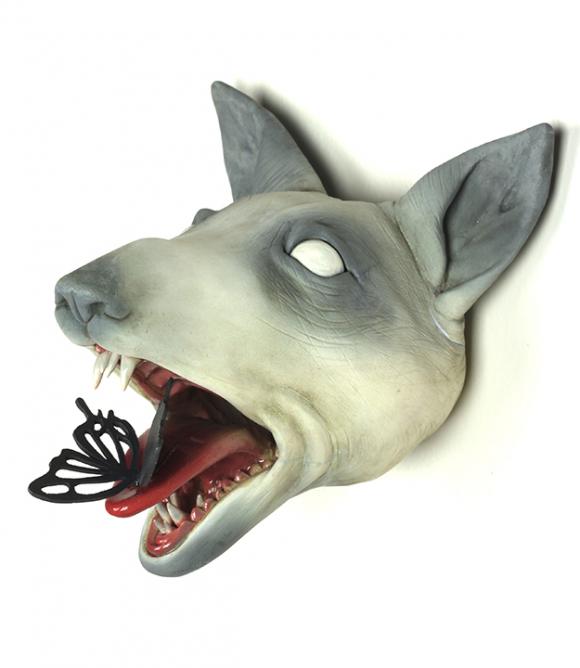 Speaking Interrupted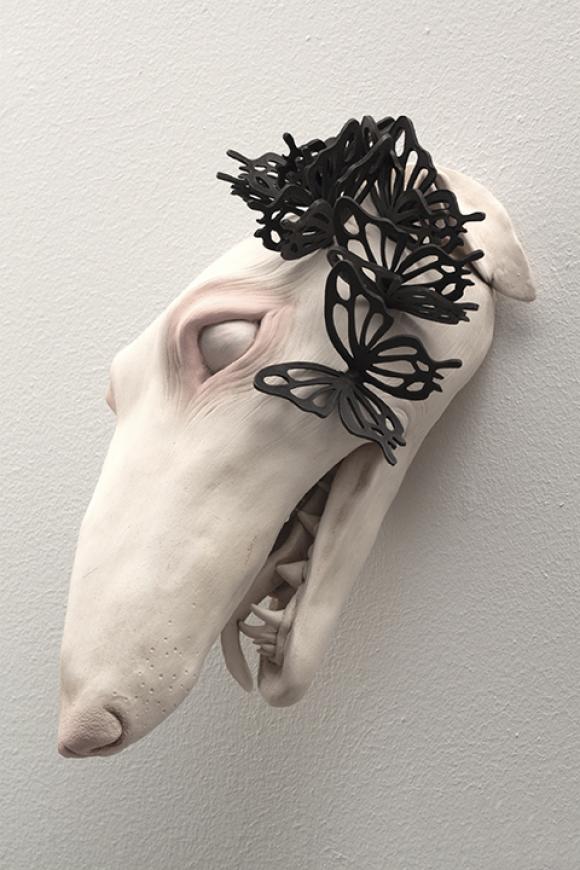 Suck One Dry
Sehr offen beschreibt die Künstlerin die psychischen Verletzungen ihrer Kindheit, die Hänseleien durch MitschülerInnen, ihre kummervolle Persönlichkeit und lähmende Ängstlichkeit. Die künstlerische Arbeit half ihr die Angst zu erforschen, zu kanalisieren und sich ihrer dunklen Seite zu stellen: Traumata werden skulptural überwunden.
"My work reflects the weird and the creepy; I am fascinated with the dark side. "Odd Things" is my current body of work and I use ceramic for making bizarre creatures. They have extra body parts such as multiple arms, legs, teeth and ears. These are how I express my sensitive mind. There are two reasons I create misshapen and abnormal work. One is my bitter childhood and the second is my constant anxieties.

When I was young, my friends ignored and bullied me. As a result, I stayed indoors and watched supernatural movies and animations. They helped me escape from reality and gave me power. These movies showed main characters using magic to turn others into freakish animals and insects. This transformation inspired me to make work that reflected the images that I saw in those movies and animations.

I have had an anxious personality since I was a child. I worry about everything, even tiny things. Anxiety drags my mind to the dark side, which is more powerful and intense than my bright side. Sometimes I can't move forward because I am emotionally paralyzed. I decided to go face-to-face with my anxieties by creating irregular and eerie creatures representing my dark side. As a result, these creatures show my twisted mind as I try to overcome anxiety through my creation." (Artist Statement)
Um mit den Ängsten in ihrer Kindheit fertig zu werden, bekam Erika Sanada von ihren Eltern einen Hund, der ihr großer Begleiter wurde. Einzig die Beziehung zu diesem Hund und das Anschauen von Filmen mit Superhelden halfen ihr, die Zeit durchzustehen. In ihrer Arbeit stehen deshalb die Hunde für die Freude im Leben. Doch dieses Glück wird durch das surreale Aussehen der Hunde (zusätzliche Zähne oder Ohren) unterlaufen, das die andauernde Ängstlichkeit in ihrem Leben symbolisiert. Dergestalt kämpft ihre Arbeit - wie auch die Künstlerin selbst - um ein Gleichgewicht zwischen Freude und Leid.
Die folgenden Fotos, die einen Einblick in den Entstehungsprozess geben, stammen vom Hi-Fructose Magazin.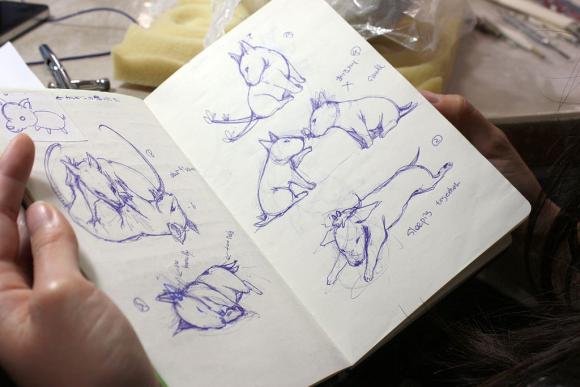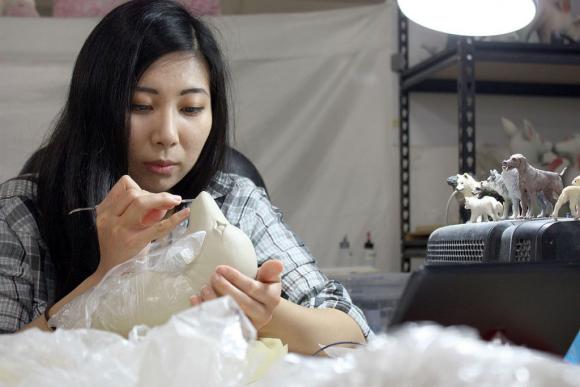 Erika Sanada (*1978 in Tokio) hat Studienabschlüsse in Communication Design und Bildhauerei. In Tokio arbeitete sie als Werbegrafikerin und Maskenbildnerin beim Film. Inzwischen lebt und arbeitet sie in San Francisco.
Gehen sie unbedingt auf Erika Sanadas Homepage, dort sehen sie jedes Werk von mehreren Seiten fotografiert, was einen umfassenden Blick auf jede Skulptur erlaubt. Auch auf den Seiten der Modern Eden Gallery und der Galerie Abmeyer + Wood finden sie viele Arbeiten und Informationen zu ihren Ausstellungen.